2nd Ranger Battalion
Talk

0
5,863pages on
this wiki
2nd Ranger Battalion

2nd Ranger Battalion shoulder insignia
Leader(s)
Major General James Earl Rudder
Appears in
Call of Duty 2
Country
United States of America
Type
Special Operations Light Infantry
Active
1943–1945
Motto
"Rangers Lead The Way"

The 2nd Ranger Battalion was formed at Camp Forrest, Tennessee on April 1, 1943 along with the 5th Ranger Battalion. Both battalions were officially activated in September 1943 and shipped to Great Britain where they were prepared for Operation Overlord in World War II.
On June 6, 1944, Dog, Easy and Fox companies landed at Pointe du Hoc from Landing craft operated by the Royal Navy. During the attack, 225 men scaled the cliffs, however only 90 of them were still standing after two days of relentless fighting. They managed to disable the German artillery, paving the way for the invasion of France.
Meanwhile Able, Baker and Charlie companies landed along with the 5th Rangers, the 1st Infantry Division and the 29th Infantry Division at Omaha Beach. They suffered heavy casualties but were still able to complete their D-Day objectives. The 2nd Rangers were later involved in the Battle of Brest and the Battle of Hurtgen Forest. The battalion was deactivated after the war together with the 5th and 6th Battalion.
Notable members in the game
Edit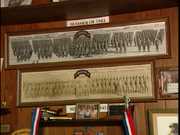 See also
Edit