3rd Person Team Tactical
Talk

4
5,830pages on
this wiki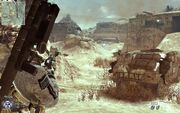 3rd Person Team Tactical is a game type that was added onto Call of Duty: Modern Warfare 2, three days after the release. The game modes include Domination, Capture the Flag, Demolition, and Team Deathmatch.
In third person, if the player melees while they go prone, they will attack with the butt of their gun instead of a knife.
It is still possible to create any third Person game in a customized private match online.
Pressing the sprint button while aiming down the sights will make the player switch from a left or right shoulder view.
There was a hardcore 3rd person, but this was removed due to a lack of cross-hairs, making it very hard to aim.