Featured Article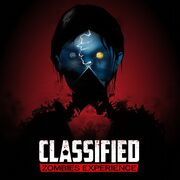 "Mankind must put an end to war - or war will put an end to mankind. (JFK, 1961)"
— Mission Briefing

Classified is a Zombies map that is included with the Black Ops Pass for Call of Duty: Black Ops 4. The fourth map featured in the game and the twenty-eighth map overall, it is a reimagining of the map "Five", which was previously featured in Call of Duty: Black Ops.
The map features the "Ultimis" crew - the original versions of "Tank" Dempsey, Nikolai Belinski, Takeo Masaki, and Edward Richtofen - as the four playable characters, replacing John F. Kennedy, Robert McNamara, Richard Nixon, and Fidel Castro. The map's story follows them as they investigate The Pentagon after being teleported there from Shangri-La via overloading a teleporter with the 31-79 JGb215.
Read more...
Featured User

Everyone!

Vote for May's User of the Month from the 19th onward here!

Congratulations to all the active users who contribute to the Call of Duty Wiki as well!

Improvement Drive

An improvement drive article:

Please improve this article in any way you can. You can vote for another improvement drive article here.
News

Call of Duty news

Community news

Did you know...

...that the coordinates of the Tactical Insertion in Call of Duty: Black Ops II show the current map's actual geographic coordinates?
...that ex-Infinity Ward employee Robert Bowling voiced Cpl. Dunn when the player runs the course in "S.S.D.D." and "The Pit"?
...that on Shi No Numa, if the hanged man in the spawn room is knifed enough, the map restarts?
...that in Call of Duty 3, even though the Sten is described in-game as being able to use captured MP40 magazines, the ability was not actually featured in-game?
...that the founders of Infinity Ward, before creating Infinity Ward, worked on Medal of Honor: Allied Assault together?
...that when Pack-A-Punched, the DSR-50 can gain Iron Sights, but that in Create A Class, this attachment is not available?
In other languages