Featured Article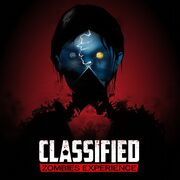 "Mankind must put an end to war - or war will put an end to mankind. (JFK, 1961)"
— Mission Briefing

Classified is a Zombies map that is included with the Black Ops Pass for Call of Duty: Black Ops 4. The fourth map featured in the game and the twenty-eighth map overall, it is a reimagining of the map "Five", which was previously featured in Call of Duty: Black Ops.
The map features the "Ultimis" crew - the original versions of "Tank" Dempsey, Nikolai Belinski, Takeo Masaki, and Edward Richtofen - as the four playable characters, replacing John F. Kennedy, Robert McNamara, Richard Nixon, and Fidel Castro. The map's story follows them as they investigate The Pentagon after being teleported there from Shangri-La via overloading a teleporter with the 31-79 JGb215.
Read more...
Featured User

Everyone!

Vote for May's User of the Month from the 19th onward here!

Congratulations to all the active users who contribute to the Call of Duty Wiki as well!

Improvement Drive

An improvement drive article:

Please improve this article in any way you can. You can vote for another improvement drive article here.
News

Call of Duty news

Community news
In other languages