Acceptable Losses
Talk

6
5,941pages on
this wiki

Acceptable Losses
Previous level
Wreckage
Next level
Terminal
Game
Call of Duty: Modern Warfare 2
Team
Task Force 141
Weapons
AA-12 w/Heartbeat Sensor, Red Dot Sight, silenced, USP .45 w/silencer, tactical knife, MP5k silenced, AK-47 silenced, M14 EBR silenced, enemy weapons
Place
Tian Shan Mountain Range, Kazakhstan
Objective
Plant explosives at the designated locations, then reach the extraction point
Enemies
Ultranationalists
Console codename
so_sabotage_cliffhanger
Campaign level
"Cliffhanger"
"Sabotage the remote airbase with your silenced weapons and heartbeat sensor."
— Spec Ops description
Acceptable Losses is the third Special Ops mission from the Delta group in Call of Duty: Modern Warfare 2. It is based on the level "Cliffhanger" with the player trying to sneak into and sabotage a remote airbase located in the mountains.
The Infinity Ward best time for Acceptable Losses is 48.15 seconds.
Acceptable Losses starts behind a hangar identical to the one where the ACS Module was located in the level Cliffhanger. The player must sneak their way through the base, evading patrols and planting
C4
charges on an attack helicopter, a fighter jet and inside a building.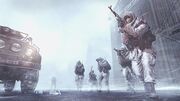 After planting these the player must escape to a location marked with green smoke.
Weapon Loadout
Edit
Found in level
These weapons can be found with and without attachments.
On regular, it is possible to complete Acceptable Losses with the enemies alerted, but the player must sprint very quickly to escape the base, as enemies can quickly overwhelm them.
The ACS module from the campaign mission "Cliffhanger" can be found in Acceptable Losses (although it can not be picked up or interacted with) near the starting point.
One of the objectives is to plant C4 on a MiG-29, there are two guards conversing next to it. If one watches them for a moment, they will notice that they perform exactly the same movements at exactly the same time.
If a player approaches a standing guard from behind whilst prone, they can touch the guard's legs without alerting them or the guard they are talking with. If the player repeatedly moves against their legs, the guard will appear to jerk upwards momentarily.
When the player picks up an unsuppressed weapon, they will be referred to as Roach by Captain MacTavish. This is most likely due to reused audio files.
This actually marks the third instance in Modern Warfare 2 that a weapon is seen with three attachments:The AA-12 has a heartbeat sensor, suppressor and a red dot sight. The first is in the level "Cliffhanger", where the player start with a suppressed ACR with a red dot sight and a heartbeat sensor, and the second is in the level "The Only Easy Day... Was Yesterday", where the player starts with a suppressed M4A1 with a red dot and a grenade launcher (though it is labeled M4A1 SOPMOD).