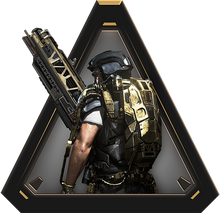 The Advanced Arsenal Pack is a DLC pack for Call of Duty: Advanced Warfare. It is a preorder bonus, and features an exoskeleton and the EM1 Quantum variant glossed with a bullet-brass paint job, as well as the AK12-G and Crossbow B-2 variants, both featuring a gold finish. All weapon variants are statistically identical to the base weapons, with only cosmetic differences.
Ad blocker interference detected!
Wikia is a free-to-use site that makes money from advertising. We have a modified experience for viewers using ad blockers

Wikia is not accessible if you've made further modifications. Remove the custom ad blocker rule(s) and the page will load as expected.