Ad blocker interference detected!
Wikia is a free-to-use site that makes money from advertising. We have a modified experience for viewers using ad blockers

Wikia is not accessible if you've made further modifications. Remove the custom ad blocker rule(s) and the page will load as expected.
Apocalypse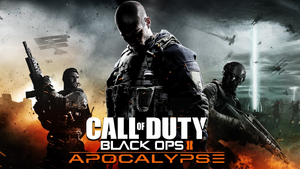 Promotional Art.
Game
Call of Duty: Black Ops II
Contents
Multiplayer Maps
Pod
Takeoff
Frost
Dig
Zombies Maps
Origins
Date Released
Xbox 360 - August 27th, 2013
PlayStation 3 & PC - September 26th, 2013
Price
Xbox Live - 1200 MS Points, PlayStation Network - $14.99
Apocalypse is the fourth and final downloadable content package available for Call of Duty: Black Ops II. It was released on August 27th, 2013 for Xbox 360, and September 26th for PS3 and PC.[1] It features four multiplayer maps (Pod, Takeoff, Frost, and Dig) and a new zombies map called Origins.[2]
Multiplayer Maps
Edit
Zombie Map
Edit
Achievements/Trophies
Edit
| Name | Description | Points | Trophy | Image |
| --- | --- | --- | --- | --- |
| Not a Gold Digger | In Origins, share a weapon you dug up. | 5 | Bronze | |
| I'm on a Tank! | In Origins, ride the tank around the map without getting out. | 10 | Bronze | |
| All Your Base | In Origins, activate all generators without allowing one to stop. | 15 | Bronze | |
| Kung Fu Grip | In Origins, free yourself and another from the Panzer Soldat's claw in one game. | 15 | Bronze | |
| Master of Disguise | In Origins, use Zombie Blood to revive three players and activate a generator in one game. | 15 | Bronze | |
| Saving the Day... All Day | In Origins, revive another player four different ways in one game. | 20 | Bronze | |
| Overachiever | In Origins, complete all 4 Challenges in one game. | 25 | Bronze | |
| Playing with Power | In Origins, build all elemental staffs in one game. | 30 | Bronze | |
| Master Wizard | In Origins, wield all of the ultimate staffs in one game. | 40 | Bronze | |
| Little Lost Girl | In Origins, release Samantha. | 75 | Silver | |
References
Edit