For the cut game mode in Modern Warfare 2, see Arena.
Arena is a game mode in Call of Duty: Black Ops III. It is the new version of League Play.
In arena, the player will be placed competitively against opponents of a similar skill level. The player's rank is ranked on wins alone. There are twenty ranks, with Master Division being the highest. Players will be dropped a tier if they suffer two consecutive losses. Each arena season has a duration of 30 days, each new season will reset the player's rank back by several ranks.
Challenges
Edit
In a title update, Arena challenges were added; Season Vet and Best Rank categories. These challenges do not need to be completed for the 100 percenter calling card in Multiplayer. To obtain the Season Vet Master calling card, the player must get 15 wins in Arena each season for a total of 12 different seasons. To obtain the Best Rank calling cards and the Arena Master, the player must increase their and rank up to a max rank of 20.
Playlists
Edit
Pro Series
Edit
"Mix of Search & Destroy, Hardpoint, Capture the Flag, and Uplink on select maps with official competitive rules and friendly fire enabled."
Rules:
Players: 4 / Max Party Size: 4
Split-screen not permitted.
Protects & Bans, Specialist Draft.
Scrim Series
Edit
"Pro Series ruleset without Protect & Ban or Specialist Draft. Set up Classes, Specialists, and Scorestreaks before the match starts."
— Official description.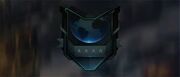 Rules:
Players: 4 / Max Party Size: 4
Split-screen not permitted.