Auto Turret
Talk

0
5,312pages on
this wiki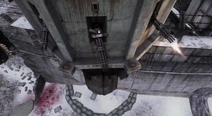 Auto Turrets are automated attack units in Call of Duty: Black Ops on the map Berlin Wall and a buildable in Call of Duty: Black Ops II Zombies.
Call of Duty: Black Ops
Edit
Based on the design of a Sentry Gun, Auto Turrets are neutral to either team, attacking both if in range. Found in the map Berlin Wall, auto turrets are located in "No-Man's Land", preventing players from having a prolonged stay there. Unlike Sentry Guns, Ghost Pro or Hacker Pro doesn't affect it, while Willy Pete grenades impair their vision and prevent them from attacking players within the smoke. There is a pathway through "No-Man's Land" around the middle of the map where it is safe to cross through the walls without being attacked by the auto turrets.
In Private Match, it is possible to survive these turrets without a Willy Pete grenade, but the party host must turn on the Headshots Only function.
Call of Duty: Black Ops II
Edit
In Zombies mode, the Auto Turret is a buildable turret in TranZit (all the items required to build it can be found in the farm area). It requires a turbine to power it.