For the Extinction map in Call of Duty: Ghosts, see Awakening.
Awakening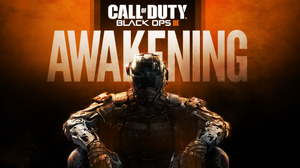 Game
Call of Duty: Black Ops III
Platform
PlayStation 4, PlayStation 3, Xbox One, Xbox 360, Microsoft Windows (PC)
Contents
Multiplayer Maps
Skyjacked
Rise
Splash
Gauntlet
Zombies Maps
Der Eisendrache
Date Released
February 2nd, 2016 (PS4)
March 3rd, 2016 (Xbox One, PC)
April 5th, 2016 (PS3)
May 5th, 2016 (Xbox 360)
Price
$14.99
Free (With Season Pass)
"Take a behind-the-scenes look at Awakening, the first DLC pack for Call of Duty: Black Ops 3. Awakening includes four Multiplayer maps: Skyjacked (a reimagining of "Hijacked" from Black Ops 2), Gauntlet, Splash, and Rise. Also included is the Zombies experience Episode 4: Der Eisendrache, the first chapter in an epic time-traversing odyssey."
— Behind-the-Scenes Description
Awakening is a DLC map pack for Call of Duty: Black Ops III. It was released on February 2nd, 2016[1] first on PlayStation 4, March 3rd, 2016 for Xbox One and PC, April 5th, 2016 for PlayStation 3[2], and May 5th on Xbox 360. It is the first Treyarch's Call of Duty DLC pack to be released on PlayStation first and it is also the first ever Call Of Duty DLC to be released on PlayStation first.[3]. Awakening includes four new multiplayer maps Rise, Splash, Gauntlet, and Skyjacked a remake of the fan-favorite map Hijacked from Call of Duty: Black Ops II. Awakening also includes a brand new Zombies map called Der Eisendrache, which takes place at the Hohenwerfen Castle (named Griffin Castle in-game) in Austria, and four new Mega GobbleGums.
In addition, exclusively for Season Pass holders on PlayStation 4, a PlayStation 4 dynamic theme was released on January 5th, 2016 based on the Zombies map of the pack, Der Eisendrache. Another one was released in April 2016 based on the multiplayer map Skyjacked.
Multiplayer Maps
Edit
Zombie Maps
Edit
References
Edit
Ad blocker interference detected!
Wikia is a free-to-use site that makes money from advertising. We have a modified experience for viewers using ad blockers

Wikia is not accessible if you've made further modifications. Remove the custom ad blocker rule(s) and the page will load as expected.