Tell the article to standby; we're on our way. Out.
This article contains information about a subject that is scheduled to make an appearance in upcoming content.
Please do not add non-referenced or speculative content until it can be confirmed by the game's release.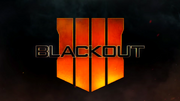 "In Blackout, Black Ops comes to life in one massive battle royale experience, combining Black Ops signature combat and the biggest map in Call of Duty history. Play as fan-favorite characters and battle through iconic settings from the Black Ops universe. It's a collision course bringing together the worlds of Black Ops in an all-out survival and elimination experience featuring weapons; equipment; land, sea, and air vehicles; RC-XDs; traps; and even Zombies in an experience that is uniquely Black Ops."
— Official Descritpion
Blackout is a new battle royale-style game mode featured in Call of Duty: Black Ops 4. It replaces the Campaign from the previous Call of Duty installments. The map will include other maps from the Black Ops series, and is stated to be the largest map to ever appear in a Call of Duty game.