Official 'Call Of Duty® Black Ops 4' – Blackout Battle Royale Trailer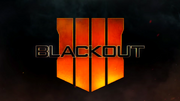 "In Blackout, Black Ops comes to life in one massive battle royale experience, combining Black Ops signature combat and the biggest map in Call of Duty history. Play as fan-favorite characters and battle through iconic settings from the Black Ops universe. It's a collision course bringing together the worlds of Black Ops in an all-out survival and elimination experience featuring weapons; equipment; land, sea, and air vehicles; RC-XDs; traps; and even Zombies in an experience that is uniquely Black Ops."
— Official Descritpion
Blackout is a new battle royale game mode featured in Call of Duty: Black Ops 4. It replaces the Campaign from the previous Call of Duty installments. The map includes other maps from the Black Ops series, and is the largest map to ever appear in a Call of Duty game.
A beta for Blackout took place between September 10th, 2018 and September 17th, 2018. Started first on PlayStation 4 and followed by the Xbox One and PC on September 14th. The beta was opened to all players on PC on September 15th.[1]
80 players and A.I.-controlled zombies were announced as part of the beta, with the possibility of more players at launch or after launch.[2][3]. On September 11th, the number of players were raised to 88.[4] On September 16th, the Blightfather was introduced in the graveyard section of Blackout as an event.[5] On September 17th, the beta was extended to 12PM PST (instead of 10AM PST) and the number of players was raised to 100. The Blightfather was removed from Blackout.[6]
Four vehicles were confirmed, and were playable during the beta[7]:
In Solo, Duo and Quad modes, each game contains 88 as a standard, however one gamemode will contain 100 players as part of the weekly featured playlist. Players drop onto the map and start looting for equipment, battling enemies, and mobilizing to stay within the circle that limits the map's playable area.
Players can equip weapons, health kits, armor, ammo, attachments, and perk consumables. The areas of the map inspired by Zombies, such as the Asylum or Lighthouse, host AI enemies that drop Zombie loot like the Ray Gun or Cymbal Monkey.
Characters
Edit
Throughout the game, players can find special items that correlate to an unlockable character. Upon picking a special item up, the player will be given a Character Mission that will only apply to the game it is picked up in. After completing the requirements given by the challenge, the player will unlock the character associated with that item.
While most items can be found through Supply Stashes or Supply Drops, there are some items that can be found on the map or through other methods. An example of this is the Punching Mitts for Ruin, which can be found in four locations around the map. Another example is the Annihilator for Seraph, which can be found at the Firing Range, although the box that contains it will sometimes not appear.
Aside from the Character Missions, there are a few characters that require the player to level up in Blackout in order to obtain them. Characters such as Jason Hudson can be unlocked by reaching Tier 199 in the Black Market, and the Shadowman can be unlocked upon purchasing the Black Ops Pass.
Playable Characters
Edit
Multiplayer
Edit
The map spans roughly 4x4 km (16 square kilometers).[8]
An interactive version of the map is available here, with helicopter spawns, Mystery Box spawns and loot areas marked out.
References
Edit