Call of Duty: Advanced Warfare
Talk

0
6,707pages on
this wiki

Tell the article to standby; we're on our way. Out.
This article contains information about a subject that is scheduled to make an appearance in a upcoming game.
Please do not add non-referenced or speculative content until it can be confirmed by the game's release.
"Power changes everything."
— Tagline
Call of Duty: Advanced Warfare is the eleventh main Call of Duty game. It will be developed by Sledgehammer Games on PlayStation 4, Xbox One and PC and High Moon Studios on PlayStation 3 and Xbox 360. It is set to be released on November 4, 2014 for Xbox One,[3] PlayStation 4,[3] PlayStation 3,[4] Xbox 360,[4] and PC. It is the first game in the series to benefit from the three year development cycle.
Gameplay
Harnessing the power of next-gen platforms, Call of Duty: Advanced Warfare brings players into the battlegrounds of the future by boasting a new hi-tech, advanced arsenal and ability set, arming players with all-new equipment, technology, perks, and vehicles like hoverbikes and highly specialized drones. Players can also choose between standard ammunition and an all-new class of directed-energy weaponry that enables totally new gameplay dynamics. Additionally, with exoskeletons delivering a massive force multiplier and unprecedented tactical freedom, Call of Duty: Advanced Warfare evolves every firefight.
Powerful exoskeletons evolve every aspect of a soldier's battle readiness, enabling combatants to deploy with an advanced lethality and eliminating the need for specialization. The introduction of this gameplay mechanic delivers enhanced player movement and verticality through boost jumps and grappling, covert cloaking abilities, and biomechanics that provide unparalleled strength, awareness, endurance, and speed. With the advent of the exoskeleton and newly advanced armor and weaponry, every soldier commands tactical freedom in any terrain unlike ever before, fundamentally changing the way gamers play Call of Duty across all modes.
In singleplayer, players will earn points during missions that can be used to upgrade the exoskeleton suit with new features.
Setting
In the mid-21st century, terrorists simultaneously attack nuclear reactors in North America, South America, Africa, Europe and Asia, throwing governments across the world into turmoil and crippling defenses. As a result, the United States enlists the help of the Atlas Corporation, a private military company led by Jonathan Irons, to fight on their behalf, as well as to assist in reconstruction.[5]
Locations
Seattle, Washington, U.S.A.
San Francisco, California, U.S.A.
Detroit, Michigan, U.S.A.
Greece
Balkan Mountains
Lagos, Nigeria
Seoul, South Korea
Levels
Campaign Levels of Call of Duty: Advanced Warfare
Missions
Characters
Factions
Factions of Call of Duty: Advanced Warfare
Playable
Friendly
Enemy
Multiplayer
Michael Condrey, co-founder of Sledgehammer Games, has revealed on twitter that the player is able to choose which gender they are in multiplayer, similar to Call of Duty: Ghosts.[6]
Advance Warfare multiplayer also marks the returns of serval old mechanics, with one being the Black Ops II Pick-10 Create-A-Class system, however in Advance Warfare it's a Pick-13 system due to the fact that Scorestreaks will be part of the Create-A-Class. Ghosts' combat slide has also returned.
Some new feature to the gameplay are that Scorestreaks can now also be customized, giving them new features but increasing the amount of points required to earn said reward. There is a new reward system that grants supply drops upon achieving tasks. When used they grant the player 3 items of different rarity: Enlist (common), Professional (uncommon), and Elite (rare). The items range from custom weapons and player customization items to special care packages called Reinforcements, which can give the player a scorestreak, or 2 free random perks till the end of the match.
A few gamemodes have also returned from Black Ops II, including Hardpoint and Capture the Flag . There is a new mode which is called "Uplink". "Momentum" is a renamed but returning game mode based on "War" from Call of Duty: World at War and Call of Duty 3.
Customisation has had an overhaul in Advanced Warfare, with the new Create-An-Operator. Players are able to customise individual gloves, helmets, and multiple other customisation options. It is also possible pick a camouflage for their exoskeleton[7].
Exo Survival
Exo Survival is a limited-round survival mode similar to Survival Mode from Call of Duty: Modern Warfare 3 and Safeguard from Call of Duty: Ghosts. One to four players are needed to survive waves of enemies, which get tougher with every round that pass. The mode lets the players use the exoskeleton from multiplayer, as well as various weapons, to battle against the enemy soldiers.[8]
Weapons
Perks, Wildcards, and Scorestreaks
Multiplayer Map
List of Maps in Call of Duty: Advanced Warfare
Included
Bonus
Gametypes
Vehicles
Vehicles of Call of Duty: Advanced Warfare
Aircraft
Ground Vehicles
Development
Sledgehammer confirmed that they were hiring for an unannounced Call of Duty project[9] and a Sledgehammer employee stated that he's responsible for "developing photo real visual effects for the next Call of Duty – Modern Warfare release."[10] in the summer of 2013.
In January 2014, a job listing for a Weapons & Vehicle Artist stated that the "candidate must have experience using Adobe Photoshop to create hyper realistic textures for next gen materials."[3] and that Sledgehammer are "looking for a top notch hard surfaces modeler to join [their] AAA family working on the next Call of Duty game."[11] On February 6, 2014, Sledgehammer Games and Activision confirmed that they would be developing the 2014 release of Call of Duty series.[12]
On May 1, 2014 Activision released a series of teasers and minor details about Call of Duty 2014, calling it a New Era for Call of Duty, and setting Sunday, May 4 as the world premiere. Later that night, Destructoid.com leaked a low quality version of the reveal trailer along with several .gifs of said trailer. As a result, Activision decided to release the trailer to Call of Duty: Advanced Warfare early on the official Call of Duty Youtube channel.
Developed by Sledgehammer Games (co-developers of Call of Duty®: Modern Warfare® 3), harnesses the first three-year, all next-gen development cycle in franchise history. Call of Duty®: Advanced Warfare envisions the powerful battlegrounds of the future, where both technology and tactic have evolved to usher in a new era of combat for the franchise. Delivering a stunning performance, Academy Award® winning actor Kevin Spacey stars as Jonathan Irons – one of the most powerful men in the world – shaping this chilling vision of the future of war.
Editions
Atlas Pro Edition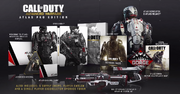 The Atlas Pro Edition[13] includes:
Collectible SteelBook
Welcome to Atlas: Advanced Soldier Manual
Call of Duty: Advanced Warfare Season Pass
Atlas Gorge Bonus Multiplayer Map
Advanced Arsenal featuring the Bullet Brass exoskeleton and EM1 Quantum directed energy weapon
Atlas Exoskeleton and Helmet
Atlas Player Card featuring an Atlas calling card and emblem
Official Call of Duty: Advanced Warfare Digital Soundtrack
Five Bonus Supply Drops
Atlas Limited Edition
The Atlas Limited Edition includes
Atlas Gorge Multiplayer Bonus Map
Atlas Digital Content Pack, which includes:

The Bal-27 AE Assault Rifle and the Atlas 45 AE Pistol
Atlas Exoskeleton and helmet
Atlas Player Card
Five Bonus Supply Drops
Single Player Exoskeleton Upgrade Token

Welcome to Atlas: Advanced Soldier Manual
Official Call of Duty: Advanced Warfare Soundtrack
Collectible SteelBook
Digital Pro Edition
The Digital Pro Edition includes:
Call of Duty: Advanced Warfare Season Pass
Atlas Gorge Bonus Multiplayer Map
Atlas Digital Content Pack
Day Zero Early Access
Day Zero Edition
The Day Zero Edition includes:
Early access for 24 hours.
Double XP throughout the day.
Advanced Arsenal Pack.
Two bonus weapons: the AK-12G Assault Rifle and the Crossbow-B2.
Gallery
Promotional Material
Factions
Player Customization
Special Edition Content
Videos
References
13: ↑ http://m.youtube.com/playlist?list=PLIYwBKK7rKy_FDb2F4RD_YTU9Y0oCCkb9