Call of Duty Online
Talk

8
6,018pages on
this wiki
You know the drill; go to station one and fix the Article.

This article or a section of this article needs to be cleaned up to conform to a higher standard of article quality.

Please take a look at the Manual of Style in order to refine this article. You may also discuss improvements on the talk page.
"Call of Duty Online will showcase the traditional features and play-modes of Call of Duty® with localized, unique content tailored to the needs and interest of gamers in China."
— Activision
Call of Duty Online (also known as CODOL) is a Call of Duty game released exclusively in China as a "free-to-play micro transaction game" published, marketed, and distributed by Tencent Holdings and fully developed by Activison Shanghai and Raven Software. The game entered open beta on January 14, 2013. The game features a new gaming model which gives the player the ability to personalize weapons, characters and equipment "with localized, unique content tailored to the needs and interest of gamers in China.". The game also reuses dozens of maps, character models and weapons from both the Modern Warfare and Black Ops series, which can be seen on its trailers.
The game features a campaign mode in which the player controls Rook and has returning characters such as John Price, John "Soap" MacTavish and Simon "Ghost" Riley. There is also a robot Zombies mode in Call of Duty Online.
There are various weapons in Call of Duty Online that have appeared in the Modern Warfare series. The weapons are able to be highly aesthetically customized, even in areas that haven't been able to be customized before, such as stocks, magazines, and handguards. New weapons and attachments get added through updates.
Assault Rifles:Edit
Submachine Guns:Edit
Light Machine Guns:Edit
Sniper Rifles:Edit
Shotguns:Edit
Handguns:Edit
Machine Pistols:Edit
Launchers:Edit
Specials:Edit
Wonder Weapons:Edit
Weapon Attachments
Edit
There is also an incredible array of weapon attachments available to customize a weapon. Attachments also get added through updates. *Please note that this list is not organized by weapon and is incomplete*
Multiplayer Maps
Edit
The multiplayer maps are a mix of maps from the Modern Warfare series and Call of Duty: Black Ops. New maps get added through updates as well. Most of the maps feature updated graphics and lighting changes from their previous games. However, some of the maps have drastic theme changes.
Equipment
Edit
There is a vast amount of equipment to choose from in this Call of Duty.
Seemingly Tencent has done some reworks to the Perks. Perks are mixed with Perks from Call of Duty: Modern Warfare 3 and Call of Duty: Black Ops. Perks do not have pro versions in this game.
Hardline (强硬路线) - Killstreaks require 1 less kill and the number of deaths needed for a deathstreak is reduced by 1.
Flak Jacket (防暴衣) - Decreases explosive damage.
Cold-Blooded (冷血) - Undetectable by UAV, Sentry Guns, Heartbeat Sensors and other killstreaks. Users are not highlighted with a red outline square.
Quickdraw (快速瞄准) - Aim down sight faster.
Engineer (工程兵) - Planting and defusing bombs faster.  Reset the fuse when throwing back frag grenades. Capture the flag faster.
Multiplayer Factions
Edit
The factions playable in multiplayer are the same as those in previous Call of Duty games. Not much is known whether the factions are the exact same ones, these were taken from various in game screen shots that included Domination flags.
Shadow Company (The uniforms of some soldiers plus some insignias and patches hint towards the inclusion of Shadow Company.)
Deathstreaks
Edit
Call of Duty Online also features Deathstreaks. It uses the same Deathstreaks from Call of Duty: Modern Warfare 2.
Killstreak
Edit
In the beta version (0.0.3.1.7) of Call of Duty Online, there are a multitude of killstreaks to select from. Most have been seen in Call of Duty: Modern Warfare 2 and Call of Duty: Black Ops, but, there are others that have been added into the game from other Call of Duty's.
On November 30, 2013, Activision announced that Treyarch's Zombies mode will come to Call of Duty Online as Cyborg Zombies in the game mode "Dead Rising". The first map, Outpost, is a remake of Nacht der Untoten. The second map, Cyborg Institute (also translated as Cyborg Laboratory), is a remake of Verrückt. So far, the characters are Cowboy, Trigger, Sergeant, and Lv Bu.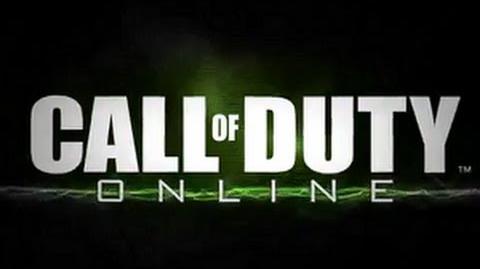 This game is exclusive to China at the moment but there are talks on bringing the game to the rest of the world.

There is a way to play the game outside of China by getting into a Chinese server, but the connection would be very inadequate. The servers are up and running.

In Dead Rising, unlike Zombies, it is not endless survival, as a helicopter will come to pick the player up at a certain round.

This makes it similar to Point of Contact in Call of Duty: Ghosts.
The robot zombies do have coloured eyes, like in Zombies.
Both Zombies and Extinction modes do not have subtitles (although the characters talk) however, Dead Rising has.
The robot zombies move slower than zombies but are harder to kill.(But not very slower and not very harder)

In Dead Rising, players can choose same character in one game.
Cyborg hound appears in Dead Rising as round-specific enemies like Hell hound. Different to WaW, BO, and BO2,  hounds round doesn't count as a normal round but count as a 'Special Round' in game.
Players can choose 3 different difficulties in Dead Rising.The 3 difficulties are Easy, Normal, and Hard.

Easy: Include 8 rounds, a Final Round and no hounds rounds. Players have 2000 points when game start.
Normal: Include 12 normal rounds, a final round and 2 hounds rounds.
Hard: Include 16 normal rounds, a final round and 3 hounds rounds.
External links
Edit