Featured Article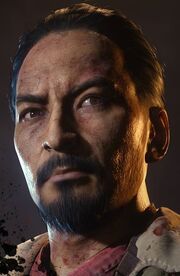 "Time... can be a cruel mistress. In its relentless march forward, it robs each of us of many things. Moments, experiences, people. Time can take them all from us, in an instant. Such things are gone forever, unless they live on within our hearts, our minds, our memories. For all its cruelty, time can also be a great teacher. Through the changes left behind in its wake, we can learn, we can grow, we can come to understand those truths that have eluded us in the past. Only then can we truly understand ourselves."
— Takeo Masaki

Captain Takeo Masaki (Japanese: 正木 武雄 Masaki Takeo) is a Japanese soldier who fought in the Imperial Japanese Army, and is a playable main character in Zombies. His player indicator color is yellow (shared with Richard Nixon and Danny Trejo), but is randomized in Moon and all subsequent maps. An alternate version of Takeo appears in Origins, and reappears in Call of Duty: Black Ops III, in The Giant, Der Eisendrache, Zetsubou No Shima (which also features the Original Timeline Takeo Masaki), Gorod Krovi, Revelations and Blood of the Dead.
Read more...
Featured User

Everyone!

Vote for May's User of the Month from the 19th onward here!

Congratulations to all the active users who contribute to the Call of Duty Wiki as well!

Improvement Drive

An improvement drive article:

Please improve this article in any way you can. You can vote for another improvement drive article here.
News

Call of Duty news

Community news
In other languages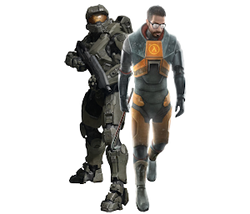 Shooter Games
Go to these sites for info or for help with your own wiki!
Battalion 1944 • Battlefield • Borderlands • Brothers in Arms • Call of Duty • Call of Juarez • Counter-Strike • Counter-Strike Online / Counter-Strike Nexon: Zombies • CrossFire • Crysis • The Darkness • Destiny • Diabotical • Doom • Duke Nukem • Far Cry • Fortnite • Gears of War • GoldenEye • Half-Life • Halo • Hunt: Showdown • Killzone • Max Payne • Medal of Honor • Modern Combat • Overwatch • Paladins • PAYDAY • Pixel Gun • PLAYERUNKNOWN's Battlegrounds • POSTAL • Prey • Quake • Red Faction • Resistance • Respawnables • Rules of Survival • SAS: Zombie Assault • Shadow Warrior • Splatoon • Star Fox • Star Wars: Battlefront • TimeSplitters • Titanfall • Tom Clancy's Ghost Recon • Tom Clancy's Rainbow Six • Turok • Unreal • Warface • Wolfenstein
Want your community included? See how!
See all of our Shooter gaming wikis!