Featured Article

Operation Shamrock & Awe is a special event that was live in Call of Duty: Modern Warfare Remastered from March 14th, 2017 to April 3rd, 2017. With Operation Shamrock & Awe, several new items were released, including 4 collections worth of items, 6 new challenges, a new gamemode and a second remaster of the map Downpour, as Daybreak.
Read more...
Featured User

Everyone!

Vote for May's User of the Month from the 19th onward here!

Congratulations to all the active users who contribute to the Call of Duty Wiki as well!

Improvement Drive

An improvement drive article:

Please improve this article in any way you can. You can vote for another improvement drive article here.
News

Call of Duty news

Community news

Did you know...

... that in Call of Duty 4: Modern Warfare, the player can stick themselves with C4 in Multiplayer?
...that the Shadow Company soldiers in Call of Duty: Modern Warfare 2 are the first American enemies encountered in the Call of Duty series?
...that on Shi No Numa, if the hanged man in the spawn room is knifed enough, the map restarts?
...that in Call of Duty 3, even though the Sten is described in-game as being able to use captured MP40 magazines, the ability was not actually featured in-game?
...that the "No Loitering" sign in Underpass is in Portuguese, while the "No Loitering" sign on Terminal is in English instead of Russian?
...that for the candy perks in Zombies in Spaceland, the boxes of the candy have a barcode that features the numbers 8675 309, a reference to the popular 1980s Tommy Tutone song "Jenny"?
In other languages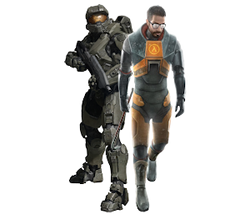 Shooter Games
Go to these sites for info or for help with your own wiki!
Agents of Mayhem • Battleborn • Battlefield • Borderlands • Breakaway • Call of Duty • Counter-Strike • Counter-Strike Online / Counter-Strike Nexon: Zombies • Critical Strike Portable / Critical Ops • CrossFire • Crysis • The Darkness • Destiny • Diabotical • Doom • Duke Nukem • Far Cry • GoldenEye • Half-Life • Halo • Killzone • Max Payne • Medal of Honor • Overwatch • POSTAL • Prey • Quake • Red Faction • Resistance • SAS: Zombie Assault • Shadow Warrior • Splatoon • Star Fox • Star Wars: Battlefront • TimeSplitters • Titanfall • Tom Clancy's Ghost Recon • Tom Clancy's Rainbow Six • Turok • Warface • Wolfenstein
Want your community included? See how!

Ad blocker interference detected!
Wikia is a free-to-use site that makes money from advertising. We have a modified experience for viewers using ad blockers

Wikia is not accessible if you've made further modifications. Remove the custom ad blocker rule(s) and the page will load as expected.