Featured User

Yeebo and Ultimate94ninja

Vote for September's User of the Month from the 19th onward here!

Congratulations to all the active users who contribute to the Call of Duty Wiki as well!

Improvement Drive

An improvement drive article:

Please improve this article in any way you can. You can vote for another improvement drive article here.

The entire wiki needs your help at the moment. Please discuss it here, and improve pages wherever you can.
News

Call of Duty news

Community news
Chat
0
Call of Duty Wiki
Join the Chat>

Did you know...

...that if all of the heads of the mannequins on Nuketown are shot off in under 15 seconds, the song "Sympathy for the Devil" by The Rolling Stones plays over the intercom?
...that in Call of Duty: World at War, there was originally going to be a fourth killstreak - Carpet Bomber, B-17 Flying Fortress, Katyusha Rocket Launcher and Kamikaze?
...that this website was founded before Call of Duty 4: Modern Warfare was released?
...that in Call of Duty 3, even though the Sten is described in-game as being able to use captured MP40 magazines, the ability was not actually featured in-game?
...that in Call of Duty 4: Modern Warfare, the M40A3, M14 and the MP44 are all weapons in multiplayer, but never make an appearance in single player?
...that when playing Exo Survival or Extinction on solo, the game will not pause when the player goes to the options menu?
In other languages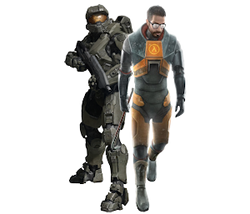 Shooter Games
Go to these sites for info or for help with your own wiki!
Agents of Mayhem • Battleborn • Battlefield • Borderlands • Call of Duty • Counter-Strike • Counter-Strike Online / Counter-Strike Nexon: Zombies • Critical Strike Portable / Critical Ops • CrossFire • Crysis • The Darkness • Destiny • Devil's Third • Doom • Duke Nukem • Far Cry • Half-Life • Halo • Max Payne • Overwatch • POSTAL • Prey • Quake • Resistance • SAS: Zombie Assault • Shadow Warrior • Spec Ops • Splatoon • Star Fox • Star Wars: Battlefront • TimeSplitters • Titanfall • Tom Clancy's Ghost Recon • Tom Clancy's Rainbow Six • Turok • Warface • Wolfenstein
Want your community included? See how!