Featured User

Kalinine and Capt. Miller

Vote for September's User of the Month from the 19th onward here!

Congratulations to all the active users who contribute to the Call of Duty Wiki as well!

Improvement Drive

An improvement drive article:

Please improve this article in any way you can. You can vote for another improvement drive article here.

The entire wiki needs your help at the moment. Please discuss it here, and improve pages wherever you can.
News

Call of Duty news

Community news
Chat
0
Call of Duty Wiki
Join the Chat>

Did you know...

...that in Der Riese, there was originally going to be another Perk Machine called the "Amm-O-Matic," which would give the buyer a Max Ammo, but was taken out at the last minute by Treyarch?
...that Gaz and Ghost are both voiced by Craig Fairbrass, hold the same roles, and are killed on day 6 with high caliber handguns by the antagonist of their respective games?
...that in Call of Duty: World at War, players can swim?
...that Sgt. Callard sacrificed himself in order to detonate the explosives that weren't working?
...that in the level Operation 40 in Call of Duty: Black Ops you could destroy the cars in the roadblock that forces you to get into a car, but the lights of the destroyed cars will still be on?
...that it's possible to get killed by the player's own or a teammate's Attack Dog in Call of Duty: Black Ops, even on Core game modes, and that deaths in this sense are counted as suicides?
In other languages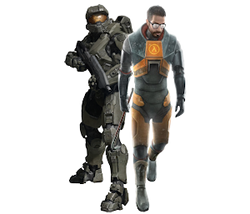 Shooter Games
Go to these sites for info or for help with your own wiki!
Agents of Mayhem • Battleborn • Battlefield • Borderlands • Call of Duty • Counter-Strike • Counter-Strike Online / Counter-Strike Nexon: Zombies • Critical Strike Portable / Critical Ops • CrossFire • Crysis • The Darkness • Destiny • Devil's Third • Doom • Duke Nukem • Far Cry • Half-Life • Halo • Max Payne • Overwatch • POSTAL • Prey • Quake • Resistance • SAS: Zombie Assault • Shadow Warrior • Spec Ops • Splatoon • Star Fox • Star Wars: Battlefront • TimeSplitters • Titanfall • Tom Clancy's Ghost Recon • Tom Clancy's Rainbow Six • Turok • Warface • Wolfenstein
Want your community included? See how!