Call of Duty XP
Talk

0
5,927pages on
this wiki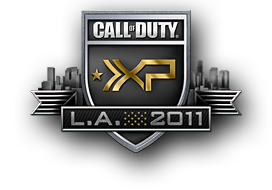 For the experience points gained in multiplayer, see XP.
Call of Duty XP[1] is a Call of Duty convention that took place on September 2–3, 2011 in Los Angeles. The events included a $1,000,000 multiplayer tournament played on Call of Duty: Modern Warfare 3, as well as a game of paintball played on a life size replica of the map Scrapyard (see below). The event served as the host for Call of Duty: Modern Warfare 3 multiplayer and Call of Duty Elite as well as the reveal for the game's Hardened Edition's contents. The Black Ops's Zombie team of Treyarch made an appearance at the convention [2] as a part of the Multiplayer team of Treyarch.[3] All proceeds from the convention went directly to the Call of Duty Endowment.
A life size recreation of the multiplayer map Scrapyard from Call of Duty: Modern Warfare 2 for paintball games (equipment supplied).




Recording of Paintball Gameplay at XP

Added by

Dr. Frohman

A recreation of The Pit from Call of Duty: Modern Warfare 2.
A recreation of the fast food restaurant Burger Town.
Call of Duty's vast arsenal in person. Browse weapons and combat gear, Call of Duty concept art and research, and explore the history of the Call of Duty series.
Attendees were able to sumo wrestle while dressed as Juggernauts.




Robert "402" Bowling, gives a tour of Call of Duty XP grounds.

Added by

James Seymor

Attendees received the Call of Duty: Modern Warfare 3 Hardened Edition upon release.
Performances from the

Dropkick Murphys

and

Kanye West

.
A real zipline, open to use by the public.
A Zombies activity, featuring a short movie about zombies origins and how it went from a bonus easter egg in Call of Duty: World at War, to the fan favorite it is today. A real life Wave Gun, a Crawler Zombie head as seen in the Zombie Labs Trailer, and zombie merchandise (six Perk-a-Cola stickers, a hat, a perk t-shirt, a Wave Gun shirt) were displayed. A Moon competition was also at the event.
External links
Edit
References
Edit