For the regular version of the animal, see Chickens.
The Chicken is a Power-Up featured in the Call of Duty: Black Ops Zombies map Dead Ops Arcade and the Call of Duty: Black Ops III Zombies map Dead Ops Arcade 2: Cyber's Avengening. Upon getting the Power-Up a chicken will spawn and follow the player around, using whatever gun that the player has, basically granting the player extra fire-power. When the player is in a Tank, the chicken will use a China Lake, and whilst in a helicopter the chicken will use a Ray Gun. The Fate of Friendship also grants the player a crow to be used permanently and any chickens obtained will last longer. When a chicken's time is up the chicken will shoot whatever gun the player is using whilst doing a 360 degree turn in mid-air before disappearing into a cloud of feathers.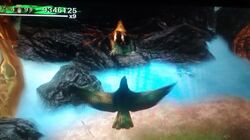 Ad blocker interference detected!
Wikia is a free-to-use site that makes money from advertising. We have a modified experience for viewers using ad blockers

Wikia is not accessible if you've made further modifications. Remove the custom ad blocker rule(s) and the page will load as expected.