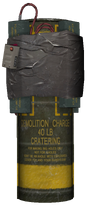 Cratering Charge
The Cratering Charge is an explosive device used by Alex Mason in the Call of Duty: Black Ops II mission, "Old Wounds" to blow up an entrance into the Afghan mountains of the Mujahideen to prevent the entry of any more enemy vehicles during the Soviet War in Afghanistan.
The top reads, "DEMOLITION CHARGE 40 LB CRATERING. DO NOT PRIME THIS CHARGE ON TOP. DO NOT USE BLASTING CAPS. USE BOOSTER CHARGES. SEE INSTRUCTION ON SIDE."
The left side reads, "DEMOLITION CHARGE 40 LB CRATERING. FOR MAKING BIG HOLES ONLY. NOT FOR AHOLES DON'T BE AN AHOLE WITH EXPLOSIVES. COVER YOU AND YOUR BUDDY'S EAR."

IH0328 is written to the right of this.

The right side reads, "DEMOLITION TREYARCH WITH ASSKICKING COMP C4. WTHRUW8N4."
Ad blocker interference detected!
Wikia is a free-to-use site that makes money from advertising. We have a modified experience for viewers using ad blockers

Wikia is not accessible if you've made further modifications. Remove the custom ad blocker rule(s) and the page will load as expected.