Death From Above (Call of Duty 4)
Talk

20
5,933pages on
this wiki

"Death From Above" is the eighth mission in Call of Duty 4: Modern Warfare. It sees the player control an AC-130 and support Captain Price's team, until they reach the extraction point.
Characters
Edit
Death From Above carries on from the previous mission, "Hunted". The player, assuming the role of a gunner on an AC-130, protects Captain Price and his team (including Soap - one of the player characters) as they make their way through an enemy-controlled village, clearing out enemy defenses and offering some powerful close air support as the SAS team makes their way to the extraction point by foot and by truck. Arriving at a local junkyard, the SAS team must hold off a considerable enemy assault with the aid of the gunship until they can be rescued.
Video Walkthrough
Edit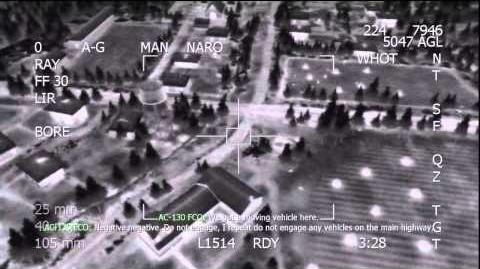 Arcade Mode Walkthrough
The 40mm Bofors gun is best for killing groups of enemies and vehicles as the explosion is small and controllable. Comparatively, the 105mm howitzer is powerful but has a slow rate of fire, and the 25mm has a fast rate of fire but is weaker.
The armored vehicle the player encounters during the level can be destroyed with two 40mm rounds.
Careless use of the 105mm M102 howitzer can easily wound SAS characters, thus ending the mission. It is good for clearing buildings with enemies however.
Although the player's character cannot die on this level, he can still fail the mission by harming members of the SAS squad, or by firing on the church, the rescue choppers or the drivers of the trucks the SAS squad commandeer. Although none seem to have any damage besides the helicopters.
Friendly soldiers and vehicles "strobe" or flash, unlike the enemies which will be a solid color. This is easier to see on WHOT mode.
WHOT and BHOT means which color is warm and which color is cool. In WHOT, warmer objects are brighter and cooler objects are darker. In BHOT, warmer objects are darker and cooler objects are brighter.
If either a howitzer round or 5-6 Bofors rounds are fired on a small house (a small rectangular house), the house will be leveled. This is worth 1000 points in arcade mode.
Achievements
Edit
Straight Flush (20

) - is obtained by killing five enemies in one shot on this level.
Death From Above (20

) - is obtained by completing "Death From Above" on any difficulty.
The Escape (40

) - is obtained by completing "Hunted" and "Death From Above" on Veteran difficulty.
Transcript
Edit