Delta Squad
Talk

0
5,932pages on
this wiki

For the faction in Call of Duty: Modern Warfare 3, see Delta Force.
"Delta Force allies dropped in via chopper."
— Description in the Air Support Armory menu.
Delta Squad is an available air support option in the Survival Mode of Call of Duty: Modern Warfare 3.
It sends three friendly NPCs to support the player(s). A green triangle (the Delta Squad Logo) indicates that the player has a Delta Squad at their disposal. They are equipped with M16A4s and are useful at drawing fire. Both they and their counterparts, the Riot Shield Squad have benefits. Delta Squad Soldiers are most effective in positions with lots of cover, both direct and overhead, as Little Birds can eliminate entire squads. It isn't a good idea to move locations with a Delta Squad attached as they can easily be picked off while moving. As with the Riot Squads, they will follow either player, based on whoever is closest around. Delta Squads will act like single player AI (hiding and shooting behind cover, talking, coordinating, etc.).
The names of the Delta Squad members that appear in Survival Mode are randomly generated from the names under the other Delta Operators tab in the article Delta Force.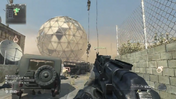 In the Survival Mode trailer, one can see that one of the Delta Squad members is named Sandman. This Sandman trooper does not appear in the final game, possibly to prevent confusion as to if this is the same campaign Sandman.
Delta Squad members do not have health regeneration. This makes them a bit at a disadvantage if they get attacked by hostiles with SMG's, LMG's or Shotguns, who happen to be medium troopers, Juggernauts and Suicide bombers respectively, Chemical Agents excluded.
They will sometimes pull out a Five Seven to kill enemies in Last Stand.
Juggernauts and dogs of any type excluded, Delta Squad members will have a fifty-fifty chance of winning a hand to hand fight with an opponent, they will usually win a fight with a medium trooper or heavy trooper but will almost always lose a fight with a commando trooper or heavy commando trooper unless the player assists them. They will always lose a fight with a Juggernaut, the only troopers they have an even battle with would be the heavy troops, who appear to be their equals in combat.
It should be noted that the players Delta teammates, whilst competent, have a habit of being swarmed and killed easily on later areas, primarily due to more durable opponents, this is especially shown if the player(s) are near an area with multiple ways in and out, as more often than not, one Delta member will stray from the group and cover an area alone, if the player(s) do not assist them, they will be killed, similar to how the player will usually have to assist Scarecrow in Modern Warfare 2's "Loose Ends" to prevent him from being swarmed and killed.
Delta Squad members are actually competent out in the open, which makes them possible substitutes for the Riot Team if the player has not unlocked them or if it is not possible to deploy one.
Delta Teams will point out hostiles loudly, the player(s) should use this to their advantage because they will tell where a hostile is, example being "Bad guy in the doorway!"
Delta members will not drop their weapons when killed, possibly to prevent a player from killing their teammate and then taking their weapon.
If left alone, Delta teams will eventually lose fights as they have no health regeneration, and therefore, attrition will eventually result in all the members being killed. Of course, a Juggernaut or Little Bird will eliminate Delta teams with ease if they are not assisted.
Delta teams will often break cover once they have engaged the enemy, leaving them extremely vulnerable, possibly explaining why they are killed more quickly on later rounds. In addition, their burst fire weapons may explain why they are vulnerable at close quarters, as they may miss and leave themselves vulnerable to a counter attack.
Delta members will use the same names as their Task Force 141 counterparts of Modern Warfare 2, with two soldiers possessing the same names as the 141 members Ozone, seen in "Loose Ends", and Worm, of "The Gulag".
Delta members have the same models as the multiplayer Delta members.
Delta Squad members as well as Riot Shield Squad members with no shield can pick up and toss enemy grenades back at them if the grenade is close enough though, they will usually run away from the Frag to avoid damage.
When a Delta Squad arrives, they will get twenty seconds spawn protection. This means even if there are twenty heavy commandos shooting at them, they will not die. Their chance will be increased to 95% against heavy commandos but still retain a zero percent chance execution against Juggernauts. After twenty seconds spawn protection, their health and execution chance will be back normal.(http://www.youtube.com/watch?v=-9FuXiVDsqk)