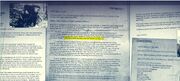 The DOD system is a data system found in the terminal in Call of Duty: Black Ops.
Description
Edit
The DOD system, a.k.a. the Department of Defense data system, is an e-mail, document and information management system found running on an in-game mainframe.
The data server manages online filestorage and access to electronic information, like mail and other data files (texts, pictures and sounds) owned by members of the DoD.
When connected to any other known data server, the DOD system can be accessed by typing rlogin dod within the in-game computer console and entering a valid username and password.
There are no known users connected to this server.
References to the DOD system can be found in the intel of Victor Charlie, in which Ryan Jackson's memo dated May 13, 1965 to William Raborn (DCI), Richard Helms (DD/CIA) and William Colby (Chief) a DoD request is mentioned.