District is a multiplayer map featured in Call of Duty 4: Modern Warfare and Call of Duty: Modern Warfare Remastered.
Overview
Edit
District is a medium-large sized map with several different passageways, containing a marketplace where close quarters fighting is prevalent, and is often viewed as the center of the map. The marketplace also has a small well that causes instant death to anyone who jumps/falls in. Outside of the marketplace is a network of streets that intersect and surround the market, which contain the map's medium range fighting, with many cars to use as cover and flanking routes through buildings. The map lacks numerous sniping positions, but can still support snipers along the streets. This map has a mixture of close quarter battles to long range battles, therefore it is advised to have a variety of weapons, though assault rifles work best.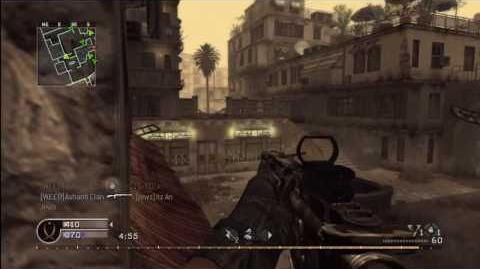 There was originally a night version of this map, but was cut off during development for unknown reasons.
During development, this map was called 'City Streets', but was renamed to District before release.