Eder Dam
Talk

0
5,317pages on
this wiki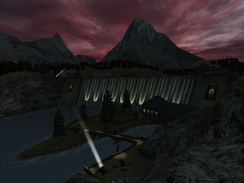 In Call of Duty
Edit
In the original Call of Duty, the player, a British Special Forces agent, must sabotage AA guns on the dam during the summer of 1943, when in fact the mission is happening on Sept. 2, 1944 a year after the actual date of "Operation Chastise".
Eder Dam was later seen on Call of Duty 3; it is only playable on the multiplayer map of the same name for Call of Duty 3. It is one of the more popular Maps for Online Multiplayer games on the PlayStation 2, along with Les Ormes and, to a lesser extent, Rouen.
Players may operate jeeps, as either driver, passenger or gunner. The driver may not use any weapons, but he can run over the enemy, causing instant death. The passenger may use any weapons he is carrying, albeit with a limited firing arc. The gunner uses the jeep's turreted .50 cal. machine gun, a devastating weapon with excellent range and firepower. However, the gunner is exposed to sniper fire, and is particularly vulnerable when the jeep is not in motion.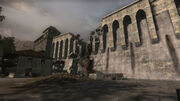 The jeeps can be destroyed by incoming fire, causing them to explode, killing the crew immediately. Any other personnel nearby may also be killed and/or wounded by the explosion. For this reason, jeeps can sometimes be used in a "suicide attack" on a highly-concentrated group of enemies; they will often fire at the incoming vehicle, which then explodes at close range.
There are several structures that can be used for cover, including a small bunker complex and a two-story building, but much of the action generally centers on the partially-destroyed bridge. Players can fight not only on top of the bridge, but inside of it as well, in a maintenance shaft.
The mission to sabotage Eder Dam in the game Call of Duty is set one year after the actual date of "Operation Chastise".
There is a glitch where the player can get on one of the large pipes on the dam, but it is very difficult to do so.