Ad blocker interference detected!
Wikia is a free-to-use site that makes money from advertising. We have a modified experience for viewers using ad blockers

Wikia is not accessible if you've made further modifications. Remove the custom ad blocker rule(s) and the page will load as expected.
Elias Multiplayer Skin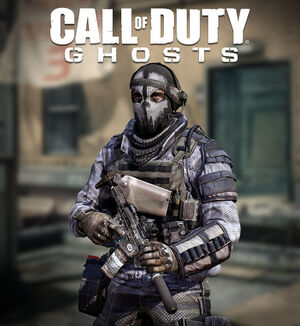 Game
Call of Duty: Ghosts
Date Released
Xbox 360, Xbox One - 20th February 2014
PS3, PS4, PC - March 25th 2014
Price
Xbox Live, PSN - $1.99
"Step into the boots of Captain Elias Walker, leader of the Ghosts, in Multiplayer. The classic styled mask of this Special Forces icon will strike fear into any enemy."
— Official Description
Elias Multiplayer Skin is a downloadable character skin available for Call of Duty: Ghosts. It is the skin that is worn by Elias Walker when rappeling down with Keegan Russ in the level Homecoming, while rescuing Elias' sons.