For the identically named pack in Black Ops II, see Extra Slots Pack (Black Ops II).
Extra Slots Pack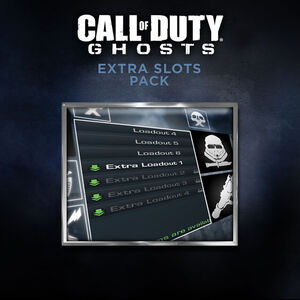 The header for the Extra Slots Pack
Game
Call of Duty: Ghosts
Date Released
Xbox 360, Xbox One-20th February 2014
Playstation 3, Playstation 4, PC-March 2014
Price
$1.99
"Get more choices as the battle unfolds. The Extra Slots Pack increases the number of customizable Create-A-Soldier loadout slots from six to 10 for each character, that's up to 40 additional loadout slots across 10 characters."
— Official Description
Extra Slots Pack is a downloadable content package available for Call of Duty: Ghosts.
Ad blocker interference detected!
Wikia is a free-to-use site that makes money from advertising. We have a modified experience for viewers using ad blockers

Wikia is not accessible if you've made further modifications. Remove the custom ad blocker rule(s) and the page will load as expected.