Flogger
Talk

3
5,319pages on
this wiki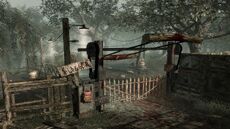 The Flogger is a rotating wooden trap with long bars and barbed wire in between them attached to giant logs that are riddled with sharp spikes. This trap is usually considered very effective for killing zombies and is unique to Shi No Numa. It costs 750 points to activate, and runs for approximately 30 seconds. After use, there is a waiting period during which the player cannot use it. Once it is usable, a buzzer alert is heard throughout the map. Regardless of round, it kills the zombies instantly. The player must also have access to Fishing Hut in order to activate it.
The Flogger will kill the player even if they have godmode on.
The player can activate the Flogger from both sides.
Crawlers and players that are prone can crawl under it without being damaged.