Fly Trap
Talk

28
5,933pages on
this wiki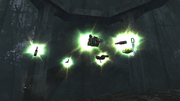 The Fly Trap is an Easter Egg found in the Zombie map Der Riese. It consists of a group of eight objects. The objects are: a Bowie Knife, a Juggernog Bottle, a Monkey Bomb, two Teddy Bears, a Molotov Cocktail, a Pack-a-Punched M1911 (C-3000 b1atch35) and a Stielhandgranate (confirmed by using noclip on PC) which seem to have inherited the personality of a little girl (Dr. Maxis' daughter Samantha). With only a Pack-A-Punched weapon there is a panel of lights down an alleyway which can be shot, (see video for exact location) or activated by throwing grenades in the area. After this is done, the eight objects that make up the fly trap can be seen spinning around with the green lights that illuminate the power-ups, and then grouping up and flying away. As they fly away, the girl (Samantha Maxis) will start to laugh. The little girl's voice says "I want to play a game. Let's play hide and seek!" This rewards the player (and all other players in the lobby) with the Elevate Your Senses achievement/trophy.
Several objects then appear in hidden places around the map. After they are discovered the little girl's voice will congratulate the player on finding the items, except for the third one, where she angrily shouts "You win. Game over!". There are only three to be shot as the items group up.
A Teddy Bear with what appears to be a Bowie Knife in its left hand standing in the window of a building, above the M1A1 Carbine (it is easier to see it and shoot it if the player has a PTRS-41, as it has a scope).
A Teddy Bear with a Juggernog bottle and a Pack-a-Punched Colt M1911 (C-3000 b1atch35) in a pile of cages, right to the M1897 Trench Gun.
A Monkey Bomb with a Stielhandgranate and a Molotov Cocktail in the furnace.
Once all the items are shot, 'Samantha' says, "You win" in a 'sweet' voice and then, in a demonic voice, she screams, "Game Over!"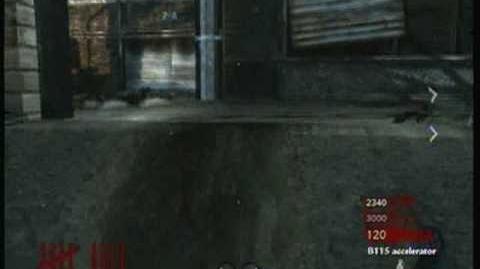 The Fly Trap has similarities to an actual Nazi project - the structure that is believed to have been the testing ground for the Die Glocke.
The Easter Egg can also be done on the Call of Duty: Black Ops version of Der Riese. However, doing the Easter Egg does not grant an achievement, unlike in World at War.