Forums:
Index
→
Watercooler
→
COD 2016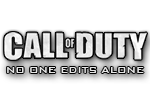 So, there has been a lot of speculation about the new call of duty, the one following Black Ops 3.
Personally, I would want a Modern Warfare 4 as I loved the Modern Warfare series, and on next gen I think the game could be incredible.Unfortunately, it is not in our hands, it is in Infinity Wards. It is a shame many people hate infinity ward because of the one, not so good game in Ghosts. Yes, most people didn't like ghosts, but infinity ward has made the Modern Warfare series and are a very successful company so we cannot underestimate their ability.
There were quite a few rumours about Space Warfare, thousands of years in the future, us flying around on the moon, but they were just rumours. Now all the rumours, which are more likely to be true, are about ghosts 2. I think if they are making ghosts 2, it is because when ghosts first came out, the sales were insane, the trailers made it look like an amazing game, so they started making ghosts 2 as they have 3 years to make this game. Remember that Infinity Ward only had one year for ghosts, this is the first time they will have 3 years to make a call of duty.
All in all, very soon we will know what the new COD will be which we will be playing in early November...
https://www.youtube.com/watch?v=JpVDOLMYn_Q&nohtml5=False
—Unsigned comment was added by Johnny115