Forums:
Index
→
Watercooler
→
Call of Duty (2003) marketing campaign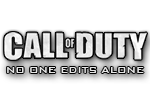 Hi guys,
I'm looking for scans of Activision's marketing campaign for the original 2003 Call of Duty. So far I can only find scans of the "In the war that changed the world . . . no one fought alone" ad that was published in Computer Gaming World, but there must be more? Thanks for all your help, I appreciate it!
Ad blocker interference detected!
Wikia is a free-to-use site that makes money from advertising. We have a modified experience for viewers using ad blockers

Wikia is not accessible if you've made further modifications. Remove the custom ad blocker rule(s) and the page will load as expected.