Forums:
Index
→
Watercooler
→
Can i use emblems 47-56 and 58-65 on MW3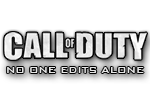 In the emblem list you can see that embles 47-56 and 58-65 are unreleased emblems.
On the elite site you can edit the numbers so you can see what emblem it will be, my question is,
Can i use the changed emblem in MW 3 online? —Unsigned comment was added by 87.211.80.202
When you say online, do you mean on your ELITE profile or in MW3 itself?
Poketape Talk

01:05, May 4, 2012 (UTC)