Forums:
Index
→
Watercooler
→
Game Mode Gameplay Videos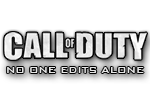 So, as some of you may have figured out, I've been trying to upload videos for all the gametypes in the Call of Duty series. However, obviously there's a lot to do; and there's some gametypes I've had a hard time finding videos for. So if anyone can help find videos for gametypes (that don't go against COD:FILE), upload them and add them to their respective pages that would be helpful. Please make sure to put it in a video section using the gallery, not by putting the videos in seperately, if you upload any. If you don't know what I mean, look at the Blitz page as an example. Also, make sure if you can to add the videos to the page of the maps which the video takes place in because after getting videos of gametypes I will start on getting videos of gameplay on maps, so doing this will save a lot of time. Oh, and the "Discussion" section is there below in case you want to let me know that your gonna help, or want to ask a question about this, or just want to literally discuss it. Anyway, that's all.
RisingSun2017
(RisingSun's Talk Page ☀ Blog Posts ☀ Contributions) 05:06, April 4, 2015 (UTC)
Discussion
Edit
Ad blocker interference detected!
Wikia is a free-to-use site that makes money from advertising. We have a modified experience for viewers using ad blockers

Wikia is not accessible if you've made further modifications. Remove the custom ad blocker rule(s) and the page will load as expected.