Forums:
Index
→
Watercooler
→
No swearing (language)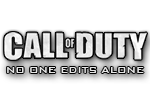 no swearing (language) unsigned comment by Tipper45
What is this about?

Col. I Ross I Talk
He is trying to say that the wiki policy should be no swearing. Even in quotes. I believe I put a thing on this in the War Room. Creepydude Sniper Say Some'at Here!
Ad blocker interference detected!
Wikia is a free-to-use site that makes money from advertising. We have a modified experience for viewers using ad blockers

Wikia is not accessible if you've made further modifications. Remove the custom ad blocker rule(s) and the page will load as expected.