What would have to change for future entries
5,942pages on
this wiki
Forum page
Forums:
Index
→
Watercooler
→
What would have to change for future entries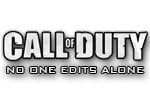 At this point it goes without saying that the Call of Duty series is definitely suffering from over-familiarity; not enough is changing. In spite of this, the games` fast-paced structure keeps the series fun with every entry, at lest for a while.
I generally don`t like the CoD series as much as other shooters (ie. Monday Night Combat, Bioshock 2 Multiplayer, etc.) If some basic changes were made, however, I would play the CoD series until it runs itself into the ground.
Keep in mind, that this is just what I personally would like to see change. You may or may not agree. I`m not expecting these changes to actually take effect, this is more of a hypothetical.
- First of all, weapon damage is still too high, and MW3 really cemented this as a serious issue. Too often, guns kill in 2-3 hits. Given how fast they shoot, and how little recoil they have, this often means you die before you can fire off a single shot. There are two ways to fix this: The first is to add more recoil to the guns so that you have to make each shot count. I personally DON`T like this method, as it just makes the game more random. What I would change is decreasing the bullet damage significantly, while keeping the same non-existent recoil. For high-powered assault rifles, 4 shots up close, and 8 at long range. Rifles that shoot faster (ie. FAMAS from Black Ops) take far more hits, while ones that shoot slow take less. SMGs and machine pistols follow this accordingly.
- Shotguns and handguns are a bit of an exception to this. I`d say just give most of the shotguns MW2 Ranger stats: limited range, but fatal if in that range. Alternatively, give the shotguns VERY long range (longer than the pre-patch 1887s), but make them take several hits to kill at long range. Get rid of the AA-12 (it`s fun, but overpowered as it gets). Handguns are, at best, a compliment to your primary weapon, and thus, I would say keep them the same as they always have been. MW2, in my mind, did sidearms best, so I`d say just follow that as an example.
- With the above changes in mind, this does naturally slow down the pace of the game. To balance this out, I`d say make the movement even more fluid. Either moving through teammates like in Bioshock 2, or pushing them aside like in Halo would be most welcome. If you`re sprinting towards something like a counter or desk, you automatically mantle over it smoothly, as though you have marathon pro in MW2. Double-tapping the crouch button either executes a barrel roll forwards, or preforms the famous dolphin dive from Black Ops. The decreased weapon damage and more fluid movement also allow for more open maps that focus more on out-maneuvering opponents, instead of just camping in a hallway or around a corner.
- Replace the instant-kill knife with a weaker hit from the butt of your gun, or in the case of handguns a punch to the face. Melees cause some damage and momentarily stutter enemies, affecting their aim or movement. This way, melee compliments your play style, instead of outright BEING your play style. However, I`d say include a combat knife as a piece of equipment that you can choose over a C4 or Jammer. You have to equipt your knife, and it still takes two hits to kill. By holding the melee button, you do a stronger melee attack that instantly kills if it his your target in the back.
- One-shot-kill snipers have got to go, simply put. I would instead replace them with battle rifles, like the G3 or FN FAL that you can equip a scope onto. Scoped battle rifles take 3-4 hits to kill if aiming at the torso, or 2 shots if they are both headshots. Not much to say here, any hitscan weapon that can kill in one hit is simply unbalanced, and has no place in any shooter. They`re bullshit in Halo, they`re bullshit in Battlefield (to a lesser extent), and they`re more than bullshit in CoD.
- DEDICATED SERVERS
- Needless to say, there are a TON of terribly unbalanced perks that have come and gone, but a few have --for whatever reason-- remained. Last Stand has GOT TO GO, it causes nothing but frustration. Likewise, perks like Cold Blooded and Ghost should be removed. Radar plays an enormous role in gameplay, and having something that counters it so easily simply has no place. Ghost could only be countered by an 8-killstreak, and Cold Blooded had no counter. Similarly, Ninja and Sitrep also need removal. With these gone, sound offers no real advantage or disadvantage, and everyone is playing on equal terms. Once again, this would also discourage camping.
- Killstreak rewards, in my honest opinion, were the worst idea IW had whe they made CoD4. However, they still have a place in the game, so I would NOT remove them, depsite my immense hatred towards them. Instead, limit them to air SUPPORT, not air RAPE. A 9-killstreak Pavelow should be the maximum. Chopper Gunners and AC-130s are nice for montages, but a game should never be based around creating montages. With this in mind, stringers, and other auto-lockon launchers need to go. An accurate AT-4 and sustained gunfire mean that you actually need to work to take down air support, in turn meaning the helicopters or whatever still pose a threat while not being overtly dominant. I really like support-based rewards like the Ballistic Vest from MW3, or the SAM Turret from BO. Speaking of which, limited air support also makes SAM Turrets more of a priority, potentially making them one of the more powerful rewards.
- The game could very easily benefit from the use of Spotting. For those who don`t know, in Battlefield and Gears of War, if you`re aiming at a guy and hit a button on your controller, you spot him. Spotted enemies have a little icon over their head that your entire team can see. It`s a small but useful feature that supports teamwork, and discourages camping (which is always a bonus). Super Monday Night Combat takes this one step further: as long as you can see an enemy, your entire team can see him by creating a silhouette of him that is visible through walls. I think that the latter`s method would be a bit too much (SMNC is very slow paced), but I thought it was worth mentioning.
- In objective game modes like Domination, killstreak rewards are replaced by pointstreaks, which function more or less identically. The only real difference is you gain the rewards by accomplishing objective-based tasks, like capturing flags, getting offense or defense medals, planting or defusing the bomb, etc.
- So long as I`m on the topic of objective-based, just to keep the fast-paced nature, and to make sure people focus on playing the objective, in land-grab modes liek domination, you would get say 100 points for capturing a flag half-way, and another 100 for capturing it fully. This does not apply to bomb planting and defusing bombs to counter boosting.
- Hey, boosting! Because only two people (average) take part in boosting, ANYONE on your team can spawn on a tactical insertion. While respawning, they are shown the location of the the tac-insert and if they want to spawn there then can hit a button.
-... Which will provide a perfect segway into spawns! All game modes need timed respawns. In kill-based modes like TDM, there`s a 3 second respawn (just for the sake of argument), in domination 5 seconds, and so on. Bring back the CoD4 spawn system and you`re golden.
- The map design in the series, while for the most part actually very good, has always been a little hit-or-miss. This method always tends to work well: medium-ranged, symmetrical, minimal buildings, relatively open with lots of cover, one or two elevated positions that offer a vantage point.
- To encourage people to aim down the sights more often, remove the reticule entirely. With decreased bullet damage, the game becomes a bit more focused on precision, and not being able to know exactly where you`re aiming discourages the idea of spray-and-pray.
- Kill Confirmed is a terrific game type... Make it the standard TDM. Killstreak rewards are still based on kills, but points are rewarded for collecting the dogtags.
- Grenade launchers of every sort just need to go. C4, frags, semtex, and anti-air launchers are more than welcome to say. Claymores, like the launchers, also NEED TO GO. They`re bullshit when you think about it, and are just a method of getting cheap kills. I would instead keep the motion detector from BO and MW3, but make it uncounterable unless destroyed. Now, I`m aware that claymores do have use in modes like SnD, as they alert you to an enemy`s position. If this secondary use is that important, I would replace claymores with a similar piece of equipment that does not kill, but still creates a hitmarker, and puts whoever it `hits` onto the radar.
Okay, I pretty much just wrote whatever came to my mind as I wrote this (there was no planning involved). It turned out much longer than I thought, but if you decide you have enough time to read it than you have my thanks. If you have a response or comment, feel free. This was mostly for the sake of voicing my opinions on what the series could do to rightfully hold the title as the apparent top shooter in gaming history (as Activion claims it is). —Unsigned comment was added by JrH154
You can't be a war game and just not include weapons like sniper rifles, grenade launchers, and claymores, you wouldn't be taken seriously.

Poketape Talk

07:32, February 26, 2012 (UTC)
Whether or not it is realistic is beyond the point. If it negatively affects gameplay than it has no place. I honestly don`t think it`s even fair to call CoD a ``war game`` any more, since it does NOT accurately represent a real battlefield, nor are its gunfights anything like real war. Nevertheless, snipers, grenade launcher, and claymores CAN work, they just don`t fit CoD`s gameplay. JrH154 08:20, February 26, 2012 (UTC)
So so wrong mate

This is almost the same as Battlefield 3. elmo's

ramblings 12:02, February 26, 2012 (UTC)
I guess, if you look at in in a certain way. I tried to keep my ideas within the realm of CoD gameplay. Speaking of which, don`t even compare CoD to Battlefield -.- I like playing both, but Battlefield is sooo slow paced. In CoD, you feel like you`re in an over-the-top action movie... Now that I think about it, how exactly did my changes turn it into Battlefield? Just curious. JrH154 18:42, February 26, 2012 (UTC)
The thing is, a lot of CoD players have settled into a sort of "comfort zone" with CoD - they like the gameplay and stuff as it is, and don't want it to change. You see this happening with other games as well - for example, Resistance 2 made a lot of changes from Resistance: Fall of Man, like Insomniac introducing regenerative health and removing the weapon wheel. The result was a load of complaints from FoM fans that the game "sucked" because of those changes (personally, I liked them, but w/e). It's the same with CoD - if you change too much, you risk stirring up a shitstorm. Sgt. S.S. 20:52, February 26, 2012 (UTC)
Good point, and for the record I completely agree with the Resistence fiasco. It's pretty sad that the CoD community is, for the most part, firmly planted in where it stands, and it unwilling to accept change. Actually, the franchise is pretty well caught in a case of "Heads I win, Tails you lose". If it changes, the fans will hate it, but if it doesn't, the fans will still hate it. Well, like I said, the changes I would make are my opinion, and little more. Just wanted to know what other people would think of them. So far, the only actualy criticisms and comments have been, "So so wrong mate," and, "This is almost the same as Battlefield 3." Go figure... JrH154 21:19, February 26, 2012 (UTC)
tl;dr: Noob crying about high bullet damage, one-shot kill snipers (LOL), grenade launchers and claymores. If they remove this stuff, most CoD fans will hate the game... —Unsigned comment was added by 84.160.219.251
Please refer to the comment directly above yours :D JrH154 22:23, February 26, 2012 (UTC)
Trolls gonna troll, I guess. Sgt. S.S. 20:25, February 27, 2012 (UTC)
Well, I don't really see much wrong in Call of Duty, just Black Ops(although it wasn't so bad); all I want is a bit more innovation like Call of Duty 4 did, since it was the game that set Call of Duty standards today. + Like MW3 did, we can polish the multiplayer into a balanced counterpart through patches, and make the campaign cinematic(but a tad longer). But we need a new engine too. And also, this whole forum you made, JrH154, was made for no reason because(as stated above) this is just Battlefield ideas. Now I don't think you or anyone want the Call of Duty series to turn into the Battlefield series.

CoDE-2KGo to my talk page!20:33, February 27, 2012 (UTC)
The most my changes come to being Battlefield is the spotting system, but even this sin't exclusive to BF. If I seriously wanted CoD to turn into Battlefield (which I DON'T), I would suggest replacing hitscan with actual bullets that are affected by gravity and flight time. Movement speed would be drastically slower, weapons would have clear recoil, enormous maps, etc. I like Call of Duty for its arcade-style, almost arena-like, run 'n gun gameplay, and I don't want that to change. As for the point you made about lack of innovation, well there is little that can change in the series, or in first person shooters generally. CoD4 was innovative because it was something entirely new (obviously). Since then, however, the franchise has improved largely by simply adding in more stuff, which is nice (for a while), but there eventually comes a point where it becomes too much --MW3 clearly demonstrates this--. The last thing the series needs is more stuff or more innovations. What it needs is a change in core gameplay. Same thing applies to Battlefield (BF3 was terrible in my honest opinion), applies to Halo (Reach was.... underwhelming). JrH154 02:38, February 28, 2012 (UTC)