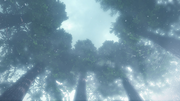 "Listen only to the sound of my voice. Let your mind relax. Let your thoughts drift. Let the bad memories fade. Let peace be upon you. Surrender yourself to your dreams. Let them wash over you like the gentle waves of the bluest ocean. Let them envelop you. Comfort you.

Imagine somewhere calm. Imagine somewhere safe. Imagine yourself in a frozen forest. You're standing in a clearing. Trees around you so tall, they touch the sky. Pure white snowflakes fall all around. You can feel them melt on your skin. You are not cold. It cannot overcome the warmth of your beating heart. Can you hear it? You only have to listen.

Can you hear it slowing? You're slowing it. You are in control. Calm. At peace."
— Corvus
The Frozen Forest is a neurological landscape created by Corvus in order to simulate life after death. The idea for the forest comes from the aural therapy Salim implemented during the human DNI testing in order to calm patients after strenuous mental trials. The poem recited by Corvus and; subsequently, whomever it corrupted, comes from the audio recording Salim created and played for the patients. During the events of Call of Duty: Black Ops III, Corvus corrupts John Taylor and his team. Once the Player and Hendricks learn of the truth they, alongside Rachel Kane, hunt down their former allies.
John Taylor and his team appear to repeat Corvus' message, mainly "imagine yourself in a frozen forest".