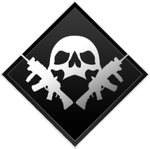 Genesis Holiday 24/7 is a special event gametype version of Team Tactical featured in Call of Duty: Infinite Warfare. Every match takes place on the Holiday version of Genesis, as the name suggests. The playlist was available starting on 20th December, 2016 and was removed on 3rd January, 2017.[1] It was the only way to play Genesis Holiday; it was not available in any other Public Match playlist, nor was it available in Custom Games.
References
Edit
Ad blocker interference detected!
Wikia is a free-to-use site that makes money from advertising. We have a modified experience for viewers using ad blockers

Wikia is not accessible if you've made further modifications. Remove the custom ad blocker rule(s) and the page will load as expected.