Gun Game
Talk

16
6,944pages on
this wiki
For the similar gamemode, see Arms Race.
"Each player starts with the same basic pistol. Every time you kill an enemy with your gun, you're upgraded to the next weapon. Anyone killed with a melee attack is demoted to the previous weapon, so watch your flank. Suicides also set you back to the previous tier, most often occurring when using explosive weapons. The match ends when someone cycles through all twenty weapons. Success in Gun Game requires aggressive tactics and familiarity with each weapon in the rotation. Don't worry about dying - just go for a lot of successive kills. "
— Call of Duty ELITE description.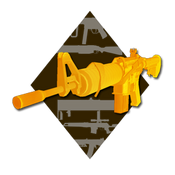 Gun Game, also known as All The Guns as an April Fool's day joke[1], is a Wager Match game mode in Call of Duty: Black Ops, a private match custom game mode, and as part of FFA Gunplay in Call of Duty: Modern Warfare 3 as well as a game mode in Call of Duty: Modern Warfare 3: Defiance, a party game mode in Call of Duty: Black Ops II, and a standard playlist in Call of Duty: Ghosts. It was also cut from Call of Duty: Advanced Warfare. The game consists of six players competing in a free-for-all-style game. As players get more kills, the player will receive different weapons. However, knife kills do not advance the killer to a new weapon, but demote players to their previous weapon tier instead. The first person to achieve a kill with all twenty (or 18 in MW3 and Ghosts) weapon tiers wins. However, if the match ends without anyone getting a kill with all the weapons, the player on the highest weapon tier wins the match. Due to the fact that only 20 or 18 kills are needed to win, and the game is a Free For All, games are usually fairly short.
Weapon Tiers
Edit
Call of Duty: Black Ops
Edit
Call of Duty: Modern Warfare 3
Edit
Private Matches (Default Setup)
Edit
This is the default setup for Gun Game on private matches. The weapons and order they are used can be changed, but the attachments are randomly assigned in a fashion similar to how the defaults are.
Call of Duty: Modern Warfare 3: Defiance
Edit
Call of Duty: Black Ops II
Edit
Call of Duty: Ghosts
Edit
Direct suicides with a weapon will result in a demotion. By definition, this means being caught in the blast of an explosive weapon's splash damage. Suicides by car bombs or red barrels will also demote the player, but suicide by fall damage will not.
If the player kills someone else by blowing up a car with a launcher, they don't advance to the next tier.
Double kills with a weapon don't advance the player two tiers.
If the player kills someone with a launcher and then kills themselves, they will go back one tier. However, if the enemy damaged the player before they killed themselves, the other player will get an "Assisted Suicide" kill, but will not advance.
Kills from the grave (afterlife kills) will advance the player a tier.
The console codename for Gun Game is gun.
David Vonderhaar, the design director for Treyarch, states that the idea for this game mode came "straight from the community," which was a thread created on their own Community Forums. Gun Game had an overwhelming demand from the majority of the community.
Call of Duty: Black Ops
Edit
Even though the icon for Gun Game is a Commando, it is not featured in the game mode.
Call of Duty: Modern Warfare 3
Edit
Call of Duty: Ghosts
Edit
In Ghosts, the first sixteen weapons are randomized within their class, with random attachments. The player can view their current weapon and attachments by selecting Change Class in the menu. However, the assault rifle at thirteen will always have no attachments and the shotgun at fourteen will always have the Slug Rounds attachment in conjunction with a Red Dot Sight.
Call of Duty: Advanced Warfare
Edit
References
Edit
↑ http://charlieintel.com/2014/10/21/infected-and-gun-game-modes-are-returning-in-advanced-warfare-mp/

 Black Ops Gun Game on Grid