House (Zombies)
Talk

4
5,934pages on
this wiki
"A rural house is your last hope for survival as the zombies advance."
— Single player description
House is the first Zombies map featured in Call of Duty: Black Ops (Nintendo DS). It features old furniture, wooden floorboards, and ancient wallpaper while the upstairs rooms look like a bomb was detonated there.
Call of Duty: Black Ops (Nintendo DS)
Edit
First Room (Starting Room)
Edit
In here, the M14 can be found for 1800 points and the M1891/59 for 300 points, but it is recommended that the player use the Throwing Knife because zombies in the first round are still weak. There is a door that can be opened for 5000 points that leads to the second room. There are a total of five windows in this room and each one with a barricade.
Second Room
Edit
This room contains a Mystery Locker (DS version of the Mystery Box) which can be purchased for 950 points and an M16 that can be purchased for 2500 Points and also a Remington 870 for 1200 points. After this room is opened, Hellhounds will start to spawn. There is also a door which leads to the second floor which costs 10000 points.
Second Floor (Final Room)
Edit
In this room the player can find the PPSh-41 for 5000 points and a M16 with a Grenade Launcher is also available for 7500 points, as well as an XM22 and a M79. Grenades are also available for purchase. Also there is a hole in the floor in between the walls with the PPSh-41 and XM22 which the player can shoot through which can be useful for safely clearing out the starting room.
A glitch appears in the third room which makes the player invulnerable to all zombies. To do this, stand between the boxes and all zombies will move to the other side of the wall.
Many of the textures and walls used in this level are directly similar to those used in Facility.
In the first room, the words "Aim for the head" appear to be written in blood.
This is the first of the two maps in which the player can get out of map. To do this, go to the barricade by the PPSh-41 in the final room and run side to side.
The chimney in this map is identical to the one in Overlook.
Some of the scenery looks like scenery from the Cuban missions, but the Zombies are Russian.
It seems like upstairs is downstairs and downstairs is upstairs.

 Call of Duty Black Ops (DS) - Zombies Mode - House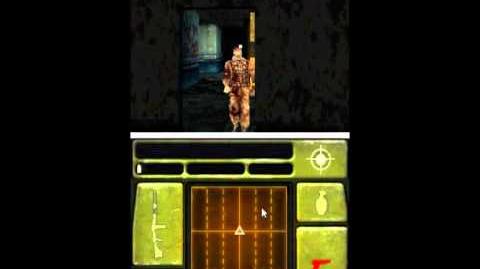 The Sergeant says, "This article needs more content, so stop messing around and add to it right now!"

Please expand the article as well as you can!