"Do not pray for easy lives, my friends. Pray to be stronger men."
— Kennedy in "Five".
John Fitzgerald Kennedy, abbreviated JFK, was the 35th President of the United States of America. He appears as a playable character in the Zombies map "Five". His player indicator color is white. While negotiating with Cuba Prime Minister Fidel Castro along with Robert McNamara and Richard Nixon at the Pentagon, zombies invade. The four government officials team up to fight off the zombies.
Main article: "Five"/Quotes#John F. Kennedy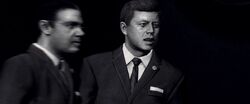 Kennedy appears in a small Easter Egg in Ascension: He can be heard through one of the three red telephones, which start to ring after certain events in Ascension. He says one of his "out-of-ammo" quotes - "Need some beans for the chowder here!"
Unlike most of Zombies playable characters, Kennedy doesn't have any quotes after being downed by zombies.
When using the Winter's Howl, he can sometimes say, 'Ice ice baby', which is a reference to the song of the same name by Vanilla Ice.
Ad blocker interference detected!
Wikia is a free-to-use site that makes money from advertising. We have a modified experience for viewers using ad blockers

Wikia is not accessible if you've made further modifications. Remove the custom ad blocker rule(s) and the page will load as expected.