Hey! User! Drop the chips and get me some images!
This article is in need of quality images. Feel free to upload and insert some into their respective locations.

For other uses, see Kharkov.
"Kharkov 2" (Kharkov Station) is the thirteenth campaign mission in Call of Duty: United Offensive. The player must fight through the German defenses to liberate the city of Kharkov.
Yuri starts fighting in the city of Kharkov against Waffen-SS Panzer's and Panzer-Grenadier's.Yuri and fellow Soviet soldier's have to call in the position's of German Pak Gun's and Elefant tanks .Then they enter into the heart of the City of Kharkov fighting Waffen-SS Panzer's and Panzer-Grenadier's.Yuri must take a captured German Panzerfaust and take out German tank's.Then goes House-to-House clearing them of German resistance.Yuri arrives with reinforcements arriving in the station and a Commissar encouraging the soldiers on their victory as the combined might of the Soviet Military chases the last of the retreating Waffen-SS Panzer-Grenadier's out of Kharkov. This part is very similar to the Call of Duty: World at War level "Their Land, Their Blood".
Level gameplay (part 1)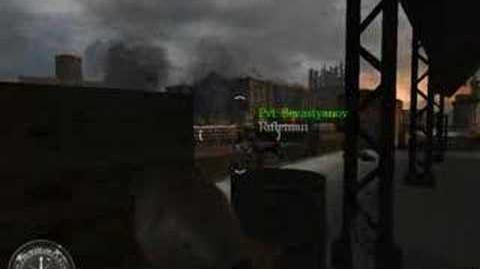 Level gameplay (part 2)
Transcript
Edit
Main article: Kharkov 2/Transcript
The Sergeant says, "This article needs more content, so stop messing around and add to it right now!"

Please expand the article as well as you can!
Ad blocker interference detected!
Wikia is a free-to-use site that makes money from advertising. We have a modified experience for viewers using ad blockers

Wikia is not accessible if you've made further modifications. Remove the custom ad blocker rule(s) and the page will load as expected.