Lookout
Talk

4
5,932pages on
this wiki

We have zero visibility on the ground. We need you to guide us to the target. Over.

This article is in need of quality images. Feel free to upload and insert some into their respective locations.

Lookout is a multiplayer map for Call of Duty: Modern Warfare 3 and is designed to be played with the Face Off gamemode.
This map takes place on the hills of Afghanistan in a Forward Operating Base.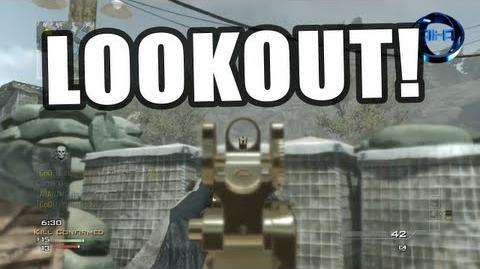 As stated by an employee of Infinity Ward, it is possible to get outside the map via an easter egg, but the outside is teeming with mines.
There are One Man Army Bags laying around the Delta spawn.
Similar to Getaway, the factions in pre-release screenshots, video, and through Elite service at release are listed as Inner Circle and SAS when they are actually Spetsnaz against Delta Force.
Game files discovered for this map list the name as mp_restrepo, which refers to the documentary Restrepo about U.S. soldiers stationed in a Forward Operating Base very similar to the one portrayed in this map.
There is a sign within this map which says the name of the base in which this map is set as FOB Raven and showing the logo of Raven Software underneath.
There are two miniguns located inside one of the forts of the map, but they can only shoot out far outside the map boundaries.