Home
Talk

731
6,501pages on
this wiki


Featured Article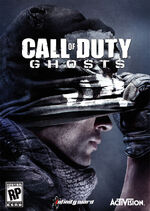 Call of Duty: Ghosts is the tenth installment of the main Call of Duty series. The game was developed by Infinity Ward, Neversoft, and Raven Software. The game was released on November 5th, 2013 for the Xbox 360, PlayStation 3, Wii U, and PC. Then was later released for the Xbox One and PlayStation 4. The plot of the game outlines the fall of the United States as a superpower to a new emerging nation. With their government and economy in ashes, the remainder of the nation's Special Operations Forces, the Ghosts fight back technologically-superior global power not for freedom, or liberty, but simply to survive.
Read more...

Featured User

Improvement Drive

An improvement drive article:

Please improve this article in any way you can. You can vote for another improvement drive article here.
News

Call of Duty news

Community news
In other languages