Marines (Zombies)
Talk

20
5,319pages on
this wiki
For the military faction, see USMC.
For the faction with a similar name, see Marine Raiders.
The Marines were a small strike team of four sent to extract Peter McCain. They appear in the zombie level Verrückt. The most notable character from the marines is Tank Dempsey, who survived and became one of Richtofen's test subjects.
The team was sent to the asylum to extract OSS operative Peter McCain. They failed in their mission and Tank Dempsey is the only member of the team who survived.
They are the playable characters in the World at War version of Verrückt, but were replaced by the original characters in the Black Ops verisons of the map.
Main article: Verrückt/Quotes
The Marines might also have known Pvt. Pyle as one of them says "For Private Pyle!".
The Marines have four different voices for each player in Verrückt.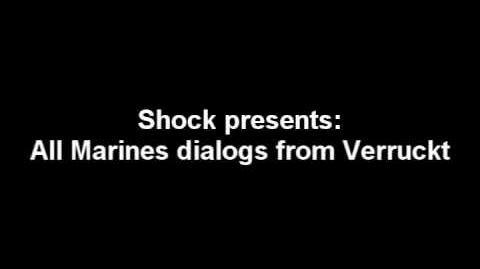 All Marines dialogue from Verruckt