Hey! User! Drop the chips and get me some images!
This article is in need of quality images. Feel free to upload and insert some into their respective locations.

Marseilles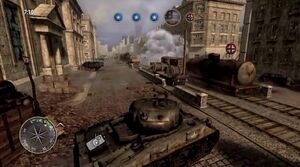 Game
Teams
American vs. German
Location
Terrain
City streets and urban train tracks
Modes
All game modes supported
Type of Combat
Medium-Long range combat
Marseilles is a multiplayer map in Call of Duty 3. Released as part of the Bravo Map Pack, Marseilles is a remake of the popular map Kharkov featured in Call of Duty: United Offensive.
The Sergeant says, "This article needs more content, so stop messing around and add to it right now!"

Please expand the article as well as you can!