Nuketown 24/7
Talk

8
5,923pages on
this wiki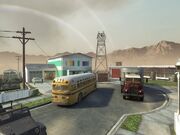 For other uses, see Nuketown and Nuketown 2025.
For the similar game mode, see Firing Range 24/7.
Nuketown 24/7
(known as
Nuketown 2025 24/7
in
Black Ops II
) was a special event gametype version of Team Tactical featured in
Call of Duty: Black Ops
and
Call of Duty: Black Ops II
. Every match takes place in
Nuketown
for
Black Ops
and
Nuketown 2025
for
Black Ops II
respectively, as the name suggests. This mode can hold 6-12 players in a lobby (6-10 on the Wii version, due to maximum online support can only hold 10 without RAM limitations or lag).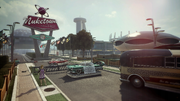 This gametype is essentially a Nuketown-only mode, combining the gametype options from
Team Tactical
and
Free for All
gametypes, with a maximum of 2 6-player teams (5-player teams on the Wii version). It has taken place on every Double XP weekend for Black Ops with the exception of one, featuring
Firing Range
instead. It was available from
Black Ops II's
launch. It is currently playable in Double XP weekends in Black Ops II.
Nuketown 24/7 is currently the only gametype where a player can play a 12 person Free-For-All match outside the PC version. Also, because of the nature of the playlist, this is the only FFA match where parties are allowed, however the Tactical Insertion is NOT allowed, following the normal set-up.
As the Double XP weekend is ended via an update, players that started playing before the Double XP weekend ended are still able to access Nuketown 24/7, until they turn off their consoles, thus updating the game once they turn their consoles on again. This gamemode is always very popular with the Black Ops community (even more so than Team Deathmatch) due to its limited availability and the ease at which players can gain large amounts of kills.
PC servers always have this game mode, even without special events.
On the Xbox 360, Party Chat is allowed during Search and Destroy and Free for All matches, unlike normal Search and Destroy and Free for All.
As of February 10, Firing Range is used to host the Nuketown 24/7 playlist.
In Nuketown 2025 24/7, some game modes have been removed from the Black Ops version. The removed game modes are Search and Destroy, Free for All and Capture the Flag. However, these game modes were used in the launch weekend event. Also, Hardpoint has been added to the gamemode.
Availability
Edit
Nuketown 24/7 was available during the following dates below.
Black Ops
Edit
February 4–6, 2011 (First)
March 5–7, 2011
May 20–24, 2011 (PS3 Exclusive)
June 10–13, 2011
July 1–8, 2011 (Fourth of July Celebration)
July 29–31, 2011
September 3–6, 2011
September 23–26, 2011
October 28-November 1, 2011
Black Ops II
Edit
For Black Ops II, the playlist is called Nuketown 2025 24/7. It is only available during Double XP Weekends.
November 13-19, 2012 (Launch Week Event)
December 14-17, 2012
January 25-28, 2013
February 22-25, 2013
April 12-16, 2013
May 10-13, 2013
May 23-30, 2013 (PC Exclusive)
June 27-July 3, 2013 
September 19-22, 2013
October 25th-November 1st, 2013 (Week long, to celebrate Ghosts release)