For other uses, see Nuketown.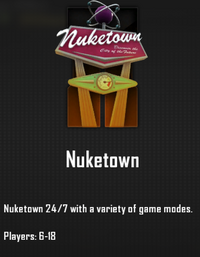 Nuketown Forever was a PC-exclusive playlist in Call of Duty: Black Ops II. As the name suggests, the playlist used only Nuketown 2025. The gamemodes were random and it held up to 18 players. The playlist was added in October 2013 and was replaced by Nukejacked in April 2014.
Ad blocker interference detected!
Wikia is a free-to-use site that makes money from advertising. We have a modified experience for viewers using ad blockers

Wikia is not accessible if you've made further modifications. Remove the custom ad blocker rule(s) and the page will load as expected.