Pareidolia
Talk

42
5,312pages on
this wiki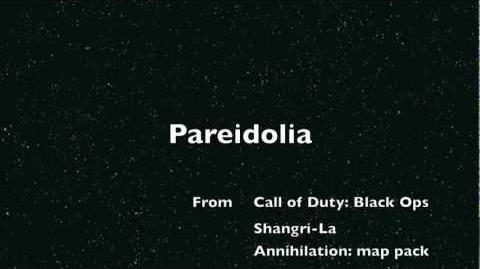 Pareidolia is the death song for Ascension and Call of the Dead and is the easter egg song for the Zombies map Shangri-La. It is sung by Elena Siegman, and written by Kevin Sherwood. The song is activated by holding down the action button at three meteors scattered across the map, like in Kino der Toten and Call of the Dead.
Fragment Locations
Edit
First Meteorite: The very first piece of the meteorite is located in the starting room, behind the Quick Revive perk machine. It's to the left of the window and in the rubble of a pillar, it's behind the pillar lying on the ground.
Second Meteorite: The second meteorite piece is near the bridge near the starting area and the moving walls. It is next to the Juggernog/Speed Cola vending machine.
Third Meteorite: The third meteorite is near the pad in a mining area. The meteorite is located within the broken wall slightly across the Stamin-Up vending machine.
(italics represent normal voice, bold represents shouting)

I see them staring back at me
They know my name
The faces in the sky are
looking for something more
My friends have paper smiles and
laugh at me in all my trials

Their eyes are everywhere
and see everything
what do
They need me
And I need them
See me
And I see them
Within
The lines they've been
burned in my mind
It all ends so violently I know
My sweet pareidolia
It all ends so painfully and slow
My pareidolia

My friends have hollow eyes
They're made of shapes and curvy lines

Their eyes are everywhere
and see everything
what do
They need me
And I need them
See me
And I see them
Within
The lines they've been
burned in my mind
It all ends so violently I know
My sweet pareidolia
It all ends so painfully and slow
My pareidolia

The loneliness
is only missed when
I am alone

Oh

yeah

I might try to find my light tonight
Hide my sight from eyes I try to fight
My nine eyes die of light die by the blight
Ride white knight unite my plight tonight

They're inside me
They're inside me

I'm inside out
I'm inside out

They're all around

Within without
Within without

They're inside
I'm outisde

They're all around
They're all around

They're inside me
I'm inside out
They're all around
Within without

It all ends so violently I know
My sweet pareidolia
It all ends so painfully and slow
My pareidolia

la lalala
lalala
lalala
lala

[Instrumental outro]
This song and "Abracadavre" both go on the duration of 6 minutes and 11 seconds.
The meaning of "Pareidolia" is finding a vague or random stimulus as important, such as an image or sound.
One of the most common forms of Pareidolia is seeing a face, pattern, or object on something when there is nothing.
If from 2:22 to 2:30 is played backwards, the words "Save me, moses" can clearly be heard.
One can also hear the words "Satan le vue," or "I saw the devil" in French