Pipeline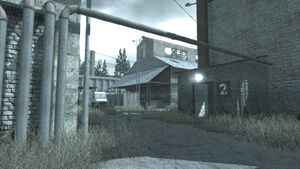 Game
Call of Duty 4: Modern Warfare
Teams
S.A.S. vs. Spetsnaz
Location
Near Pripyat, Ukraine
Terrain
Pipeline complex with a few large, accessible buildings
Modes
All
Type of Combat
Medium range combat with occasional close quarters fighting
Console Codename (PC)
mp_pipeline
Campaign Map
"One Shot, One Kill"
For the Call of Duty 2 campaign mission, see The Pipeline.
For the Call of Duty: Advanced Warfare remake, see Atlas Gorge.
Pipeline is a large multiplayer map featured in Call of Duty 4: Modern Warfare.
Overview
Edit
Pipeline is a gloomy setting centered around an abandoned rail yard in Ukraine, with a large extent of overgrown grassland. There are two large warehouses in the center of the map which often sees the main concentration of fighting. The north warehouse has a small room players can hide in and ladders leading to a catwalk which grants access to the roof. The south warehouse has a u-shaped upper level looking over the ground floor and office rooms. Additionally there is a entrance to an underground tunnel. This tunnel leads to the north-west and north-east sections of the map.
This map's layout supports a variety of play-styles, with the warehouses and tunnel encouraging frantic close-quarters action and the surrounding areas supporting mid to long-range action.