Portal:Carb's Main Page Redesign
Talk

0
Featured Article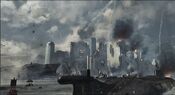 World War III is a global conflict that occurs during Call of Duty: Modern Warfare 2 and Call of Duty: Modern Warfare 3. It originally only involves the United States of America and Russia, but during the course of Modern Warfare 3, it becomes a global war. The start of World War III, as well as its continuation, all falls back to one man, Vladimir Makarov.
Read more...

Did you know...
User of the Month

Vote for April's User of the Month from the 19th onward here!

Congratulations to all the active users who contribute to the Call of Duty Wiki as well!

Improvement Drive

An improvement drive article:

Please improve this article in any way you can. You can vote for another improvement drive article here.
Call of Duty news

Create blog post

The upcoming rumours for a WWII game this year can now be confirmed as official, as the official si…

Read more >

A poster for the rumoured Call of Duty: WWII has been leaked by a YouTuber (I couldn't find his nam…

Read more >

Call of Duty: Black Ops II was the most demanded game on Xbox's feedback site where people could vo…

Read more >

See more >

Community news

Create blog post


Hey there Call of Duty community!

Fandom has ten keys to give away for the upcoming Call of Duty: Inf…

Read more >

Just wanted to point out that nowadays, a lot of decisions that require voting are being ditched. T…

Read more >

I'm making this slightly on impulse; but, it's fair to say it's been pretty quiet around here latel…

Read more >

See more >
Featured media
Call of Duty Wiki Poll
Favourite mission in Modern Warfare 3?
Previous poll results:
How many hours a week do you play Call of Duty? (Total votes: 6324)
1-5 hours
5-10 hours
10-15 hours
15-20 hours
20+ hours
In other languages
Ad blocker interference detected!
Wikia is a free-to-use site that makes money from advertising. We have a modified experience for viewers using ad blockers

Wikia is not accessible if you've made further modifications. Remove the custom ad blocker rule(s) and the page will load as expected.