You know the drill; go to station one and fix the Article.

This article or a section of this article needs to be cleaned up to conform to a higher standard of article quality.

Please take a look at the Manual of Style in order to refine this article. You may also discuss improvements on the talk page.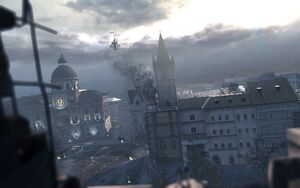 Prague is the capital of The Czech Republic. It appears in Call of Duty: Modern Warfare 3.
Call of Duty: Modern Warfare 3
Edit
After a successful Russian advance through Eastern Europe, the Czech Republic is occupied by Ultranationalist forces. A large resistance group is active in Prague and its actions escalate into a battle for Prague while assisting Task Force 141 during Eye of the Storm and Blood Brothers.
Special Ops
Edit
The Special Ops level "Resistance Movement" reuses Eye of the Storm's map, in which the player must locate rebels and escort them to an extraction point.
Multiplayer
Edit
The multiplayer map Lockdown is set in Prague.
The Sergeant says, "This article needs more content, so stop messing around and add to it right now!"

Please expand the article as well as you can!
Ad blocker interference detected!
Wikia is a free-to-use site that makes money from advertising. We have a modified experience for viewers using ad blockers

Wikia is not accessible if you've made further modifications. Remove the custom ad blocker rule(s) and the page will load as expected.