"Thanks for all your feedback in the Private Beta! The Private Beta Combat Pack includes an exclusive helmet, calling card, and emblem."
— Message given to players who redeem the pack in Headquarters.
Private Beta Combat Pack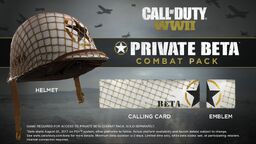 Game
Call of Duty: WWII
Platform
PlayStation 4, Xbox One, Microsoft Windows (PC)
Date Released
November 3rd, 2017
Price
Free
The Private Beta Combat Pack (sometimes referred to as the Beta Content Pack) was a time limited pack in Call of Duty: WWII exclusively available to players who participated in the Console Private Beta or the PC Open Beta. The player can redeem the pack in the Mail of Headquarters to receive the Beta Content Pack calling card and emblem, and the Beta helmet.
Ad blocker interference detected!
Wikia is a free-to-use site that makes money from advertising. We have a modified experience for viewers using ad blockers

Wikia is not accessible if you've made further modifications. Remove the custom ad blocker rule(s) and the page will load as expected.